Solar Powered Patio Umbrella LED Lights Wholesale | ZHONGXIN
Product Detail
FAQ
Customization Process
Quality Assurance
Product Tags
Waterproof & Easy to Install: The solar string lights for Patio umbrella is rated IP44, Solar panel with ground stake and back clip, installing by attaching with a clip (e.g. to pergola roof, patio umbrella) or a stake for ground mounting. (Note: Patio Umbrellas with base does not included).
Solar Powered & Auto On/Off: The solar patio umbrella string lights have no extra electric cost, no need outlets or to replace the battery frequently. They are charged during the day under direct sunlight and automatically turn on at dusk, work up to 8-10 hours after fully charged.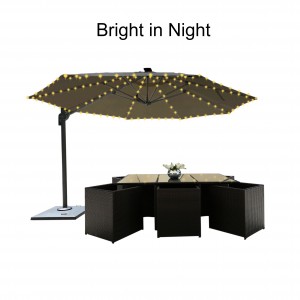 Energy-Efficient Lighting: The patio umbrella has 360 solar-powered LED lights that will light up your terrace when night falls. Soft lighting creates a romantic atmosphere for you. All LED bulbs are powered by solar panels at the top to save energy while maintaining perfect lighting.
Fast Installation: Simple assembly without tools gives you more convenience. Installation instructions available for reference. Close or remove during windy or inclement weather to avoid falling over in stand. If you encounter problems during the assembly process, please contact us directly and we will reply you as soon as possible within working days.
Solar Powered and Light Sensor Technology
Solar powered umbrella string lights was designed to universally go onto any patio umbrella, these warm white LED lights tie directly onto the umbrellas arms using the specially designed ties. Clip the solar panel onto the umbrella and turn it on. The string lights will automatically go on at night and off during the day to charge. Each units features 360 LEDs on 8 strands of lights with 45 LEDs per string (each strand is 10 inch long). Also includes two lighting modes; choose between flashing or stead lighting modes! 
During the day, the solar panel converts the sunlight into electrical energy and stored in the rechargeable built-in battery; At night, it will automatically turn on by light sensor, no need to turn on the lights manually, a good choice of saving your money and energy on electricity.
Why Not Refresh your Patio Umbrella With Solar Lights?
There are so many reasons to refresh your old umbrella with a solar light, not the least of which are that they offer unrivaled convenience and energy-efficient lighting.
Additionally:
Patio Umbrellas install with solar lights don't require a power source or extension cords, so you can put them practically anywhere.
Solar lights are attached to the umbrella, there's no need to hang a solar lantern or place a light on your patio table.
Solar umbrella lights create a warm and inviting atmosphere and offer many lighting options to fit any occasion.
LEDs are highly efficient and won't shatter like glass bulbs, so they're safer for outdoor spaces where kids and pets run around frequently.
Umbrellas provide shade during the day, so it's a multi-purpose investment.
Though installing patio umbrella lights is not simpler and easy, the amount of energy and time you spend on its installation will depend on the type of lighting you are using. Here is the simple process to install these lights easily.
* Install Disc Lights –
If you pick disc light, then simply open it up to slot around the umbrella pole and then tighten then back up. The only thing is to ensure that you purchase a perfect disc light that fits around the umbrella's pole diameter. If you are not sure about pole diameter then measure it with tape. Or do a quick research online from the manufacturer's website that list the umbrella pole diameter.
* Install Strand and String Lights –
If you want to purchase string or strand lights then find it a bit tricky to weave them all around the strands of the umbrella frame. It is easier when you get help from someone else. Finally, the lights will work well and look aesthetic.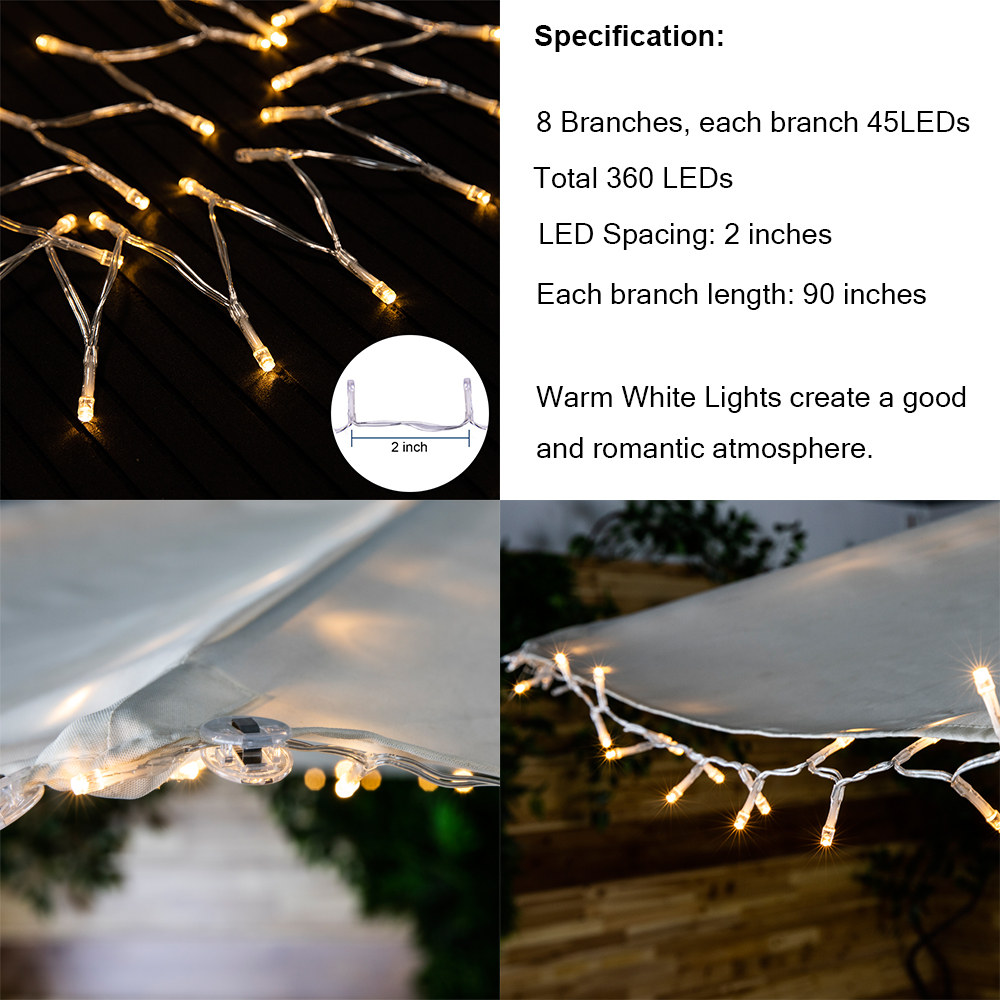 Specifications:
Material: Plastic, Copper
LED Color: Warm White
Wire color: White
Lead Cord: 144 in.
Cluster spacing: 50 inch, 
LEDs Quantity: 360pcs
Branch Quantity : 8pcs(each length: 90 in.), 45 LEDs each branch.
Power Source: Solar Powered
Modes: Steady On / Flash
Solar Panel: 5.5V 200mAh
Battery: Built in 1pc 3.7V 1800mAh Li-ion Rechargeable Battery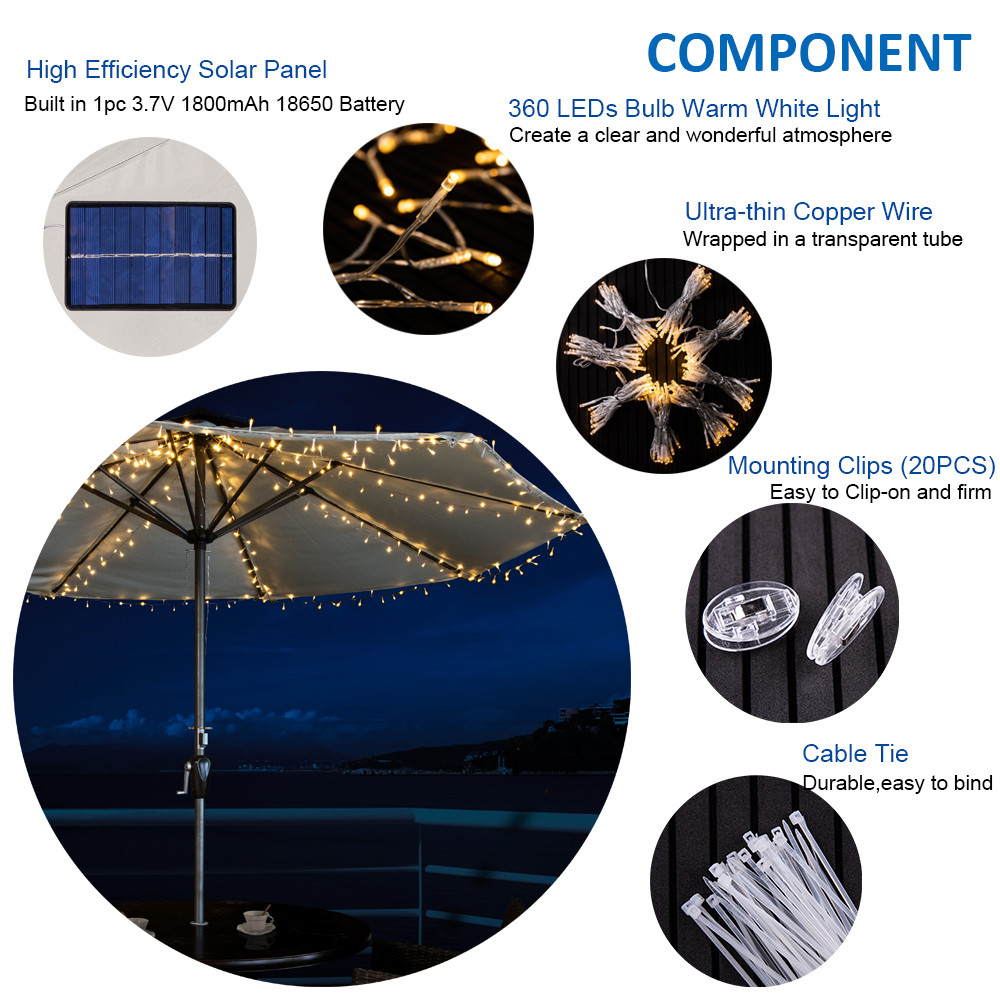 Products related to this item
---
---
Q: Do solar lights on umbrellas work?
A: Absolutely, the Solar Powered Umbrella Lights was designed for patio umbrellas. Fit for most 9 FT. market umbrellas.
Q: Can you add solar lights to a patio umbrella?
A: Yes, just spread the string lights on umbrella shaped cover, and clip the solar panel to the edge of your umbrella cover, make sure the solar panel face up to the sky.
Q: How do you charge solar lights on an umbrella?
A: Solar lights work by converting the sun's energy into electrical power. This power is stored in a battery, which then powers the light at night. The more sunlight solar panels receive during the day, the more power they will store for use at night. Check more here.
Q: Is there a battery in a solar umbrella? Are they replaceable?
A: Yes. the battery was inside the solar panel and replaceable, want to learn How Do You Replace The Battery for a Solar Umbrella Light?
Q: How do you turn off solar umbrella lights?
A: Press the light switch to turn on/off the solar lights under solar panel.
The import of the Decorative String Lights, Novelty Lights, Fairy Light, Solar Powered Lights, Patio Umbrella Lights, flameless candles and other Patio Lighting products from Zhongxin lighting factory is quite easy. Since we are an export-oriented lighting products manufacturer and have been in the industry over 13 years, we deeply understand your concerns.
The diagram below illustrates the order and import procedure clearly. Take a minute and read carefully, you will find that the order procedure are well designed to ensure that your interest is well protected. And the quality of the products are exactly what you expected.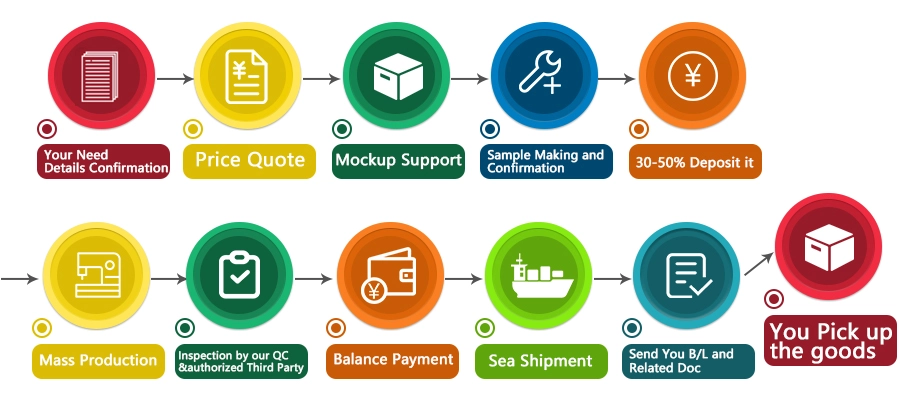 The Customization service includes:
Custom Decorative patio lights bulb size and color;

Customize the total length of Light string and bulb counts;

Customize cable wire;

Customize decorative outfit material from metal, fabric, plastic, Paper, Natural Bamboo, PVC Rattan or natural rattan, Glass;

Customize the Matching Materials to the desired;

Customize the power source type to match your markets;

Personalize lighting product and package with company logo;
Contact us now to check how to place a custom order with us.
ZHONGXIN Lighting has been a professional manufacturer in the lighting industry and in the production and wholesale of decorative lights for over 13 years.
At ZHONGXIN Lighting, we're committed to exceeding your expectations and ensuring your complete satisfaction. So, we invest in innovation, equipment and our people to ensure we are providing the best solutions to our customers. Our team of highly skilled employees enable us to provide reliable, high quality interconnect solutions that meet customers'expectations and environmental compliance regulations.
Each of our products is subject to control throughout the supply chain, from design to sale. All stages of the manufacturing process are controlled by a system of procedures and a system of checks and records which ensure the required level of quality in all operations.
In a global marketplace, Sedex SMETA is the leading business association of European and international commerce that brings retailers, importers, brands and national associations to improve the political and legal framework in a sustainable way.
To satisfy our customer's unique requirements and expectations, our Quality Management Team promotes and encourages the following:
Constant communication with customers, suppliers and employees
Continuous development of management and technical expertise
Continuous development and refinement of new designs, products and applications
Acquisition and development of new technology
Enhancement of technical specifications and support services
Continuous research for alternative and superior materials
Write your message here and send it to us