Solar Powered String Lights Outdoor Commercial Lighting China Manufacturer | ZHONGXIN
Product Detail
FAQ
Customization Process
Quality Assurance
Product Tags
Features:
1. Solar Powered and Lights Sensor Technology
These warm LED string lights use solar energy to power the lights; During the day, the solar panel converts the sunlight into electrical energy and stored in the rechargeable built-in battery; At night, it will automatically turn on by light sensor, no need to turn on the lights manually, a good choice of saving your money and energy on electricity. 
2. Flexible And Easy To Install
It is quite easy to set up, all you have to do is hang the lights wherever you want it, you can decide to have it in clusters or in straight lines across space. Make sure the panel is attached to a place where it can receive lots of sunlight.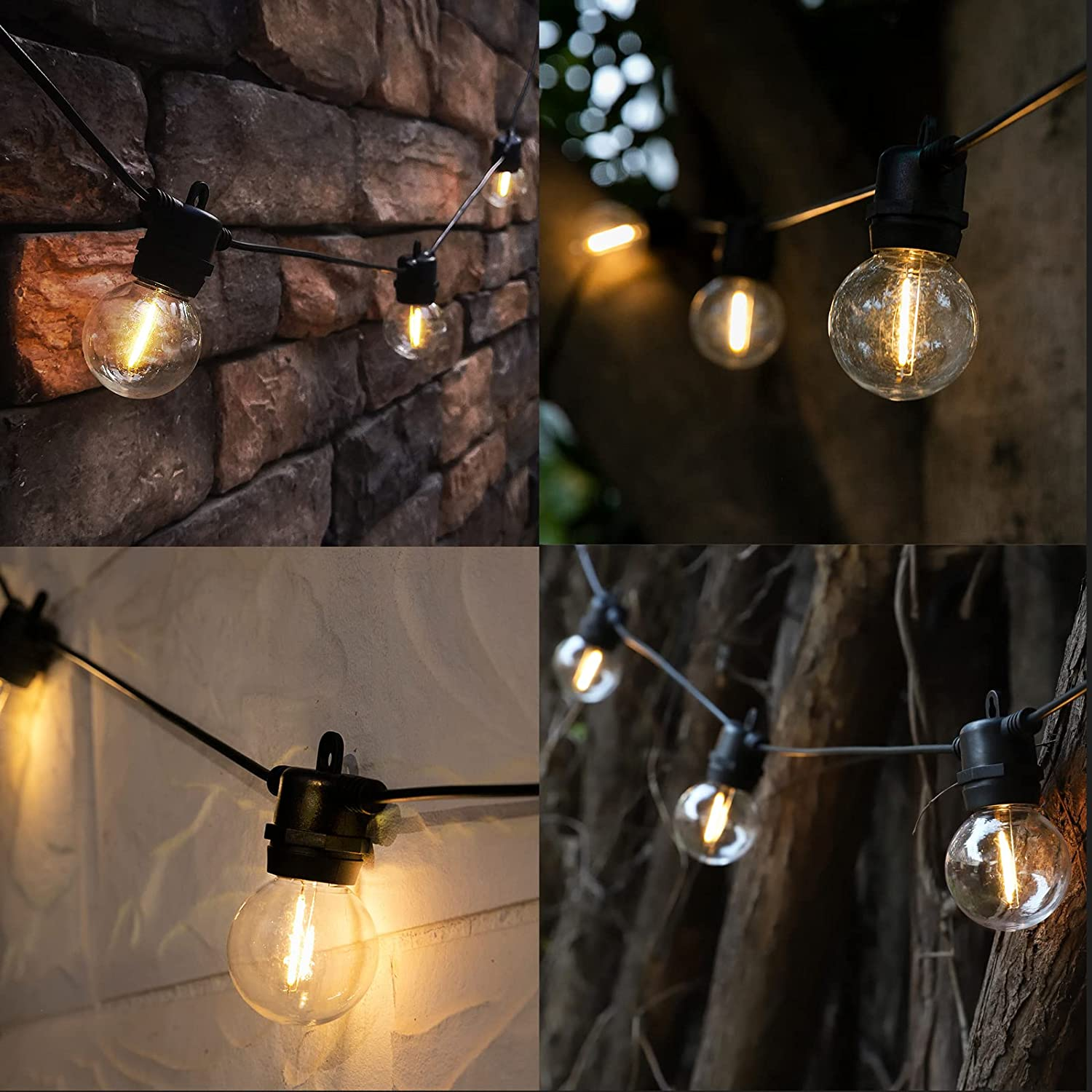 3. Commercial Grade Year Round Cozy Lighting Application
The Solar LED string lights to create a warm soft ambiance, A perfect edition string light for patio, deck, porch, garden, gazebo or pergola lighting when you have dinner, party or wedding banquets outside, A charming and energy-efficient lighting solution for any occasion! And due to the added sturdiness and durability provided by the weathertight technology, they can be left up all year round, through rain or shine. 
Commercial Grade Weather Proof Patio Lights with Shatterproof G50 Globe Bulbs: The bulbs are shatterproof plastic shells, with heat resistance up to 122 degrees Fahrenheit. 
Flexible heavy-duty cord withstands the wear of indoor and outdoor use. Light-sensitive solar panels have steady on and flash two modes, are easy to install anywhere you want, ideal for outdoor and indoor decoration, easily create a wonderful atmosphere in your life. 
Flexible Installation & Widely used Patio Lights: Solar patio lights string don't need an outlet, place the solar panel almost anywhere with the included stake and wall mounting accessories. This outdoor decorative bistro lights are the perfect decoration for balcony terrace, garden, Bistro, pergola, gazebo, tent, barbecue, city roof, market, cafe, umbrella, dinner, wedding, birthday, party etc. 
Elegant Romantic Ambiance: outdoor LED string lights use vintage Edison Bulbs. Install this hanging lights string as a canopy over your porch or gazebo for a retro bistro look and a pleasant party ambience. Make your outdoor space to be an enticing, relaxing and soothing retreat with our LED outdoor lights. 2700-3000K soft white lights are bright enough to grill and eat. Enjoy until late: They last 6-8 hours on a full charge.
Check out the diverse range of wholesale outdoor string lights on ZHONGXIN LIGHTING and pick the ones that suit your budget and requirements. These products are ISO, CE, ROHS certified and can be purchased as OEM orders. Choose these to witness the magic of the holidays at economical prices.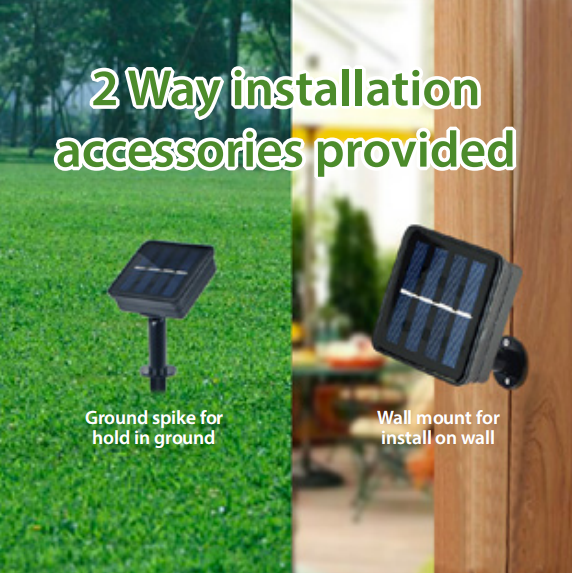 2 Way Installation accessories included
Ground stake for hold in ground, wall mount for install on wall.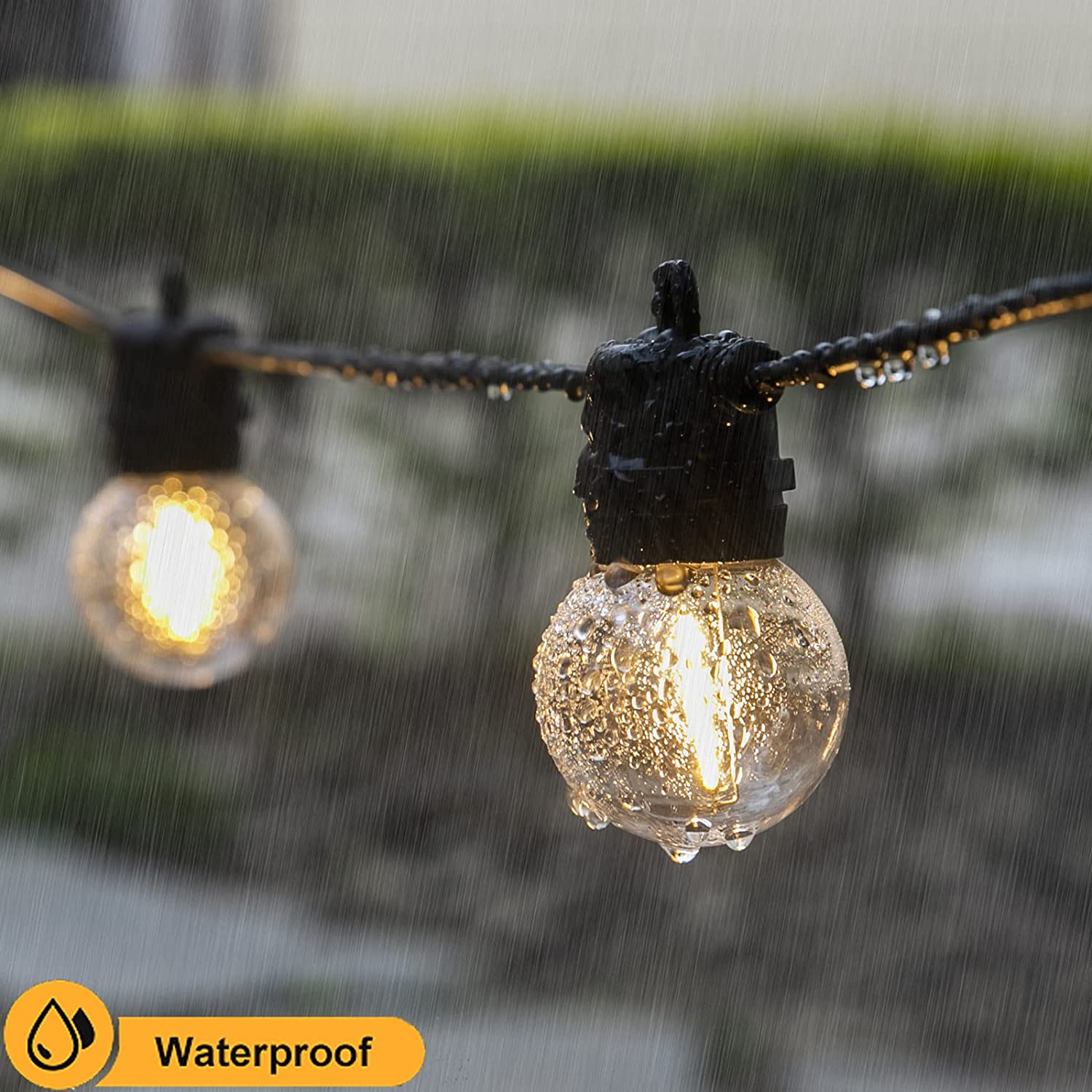 Waterproof for Outdoor
The waterproof string lights can decorate your backyard, drink at winter, BBQ at summer, have fun at autumn, plant flowers at spring.
Solar Powered Pergola Lights TECHNICAL PARAMETERS
: 
Light Color: 2700K warm white 

Rated Average Life: 25000 hours 

Waterproof Rate: IP44 Waterproof Rate 

Solar Panel: 5.5V 100MA 

Rechargeable Battery: 1 PC 3.7V 1800mAh(Included) 

Work Time: A full charge takes 8 hours of sunlight, and lights automatically turn on at night, work 6-8 hours 
SPECIFICATIONS: 
Solar Panel: 5.5V 100mA 

Battery: 1 x 3.7V 1800mhA chargeable battery included 

Bulb Count: 15 Bulb 

Spacing: 12 inch 

Bulb Shape: G50 Plastic Bulb 

Lead Cord: 6 feet 

Total Length (end to end): 20 feet 

Light Mode: Steady On & Flash 

 
Brand: ZHONGXIN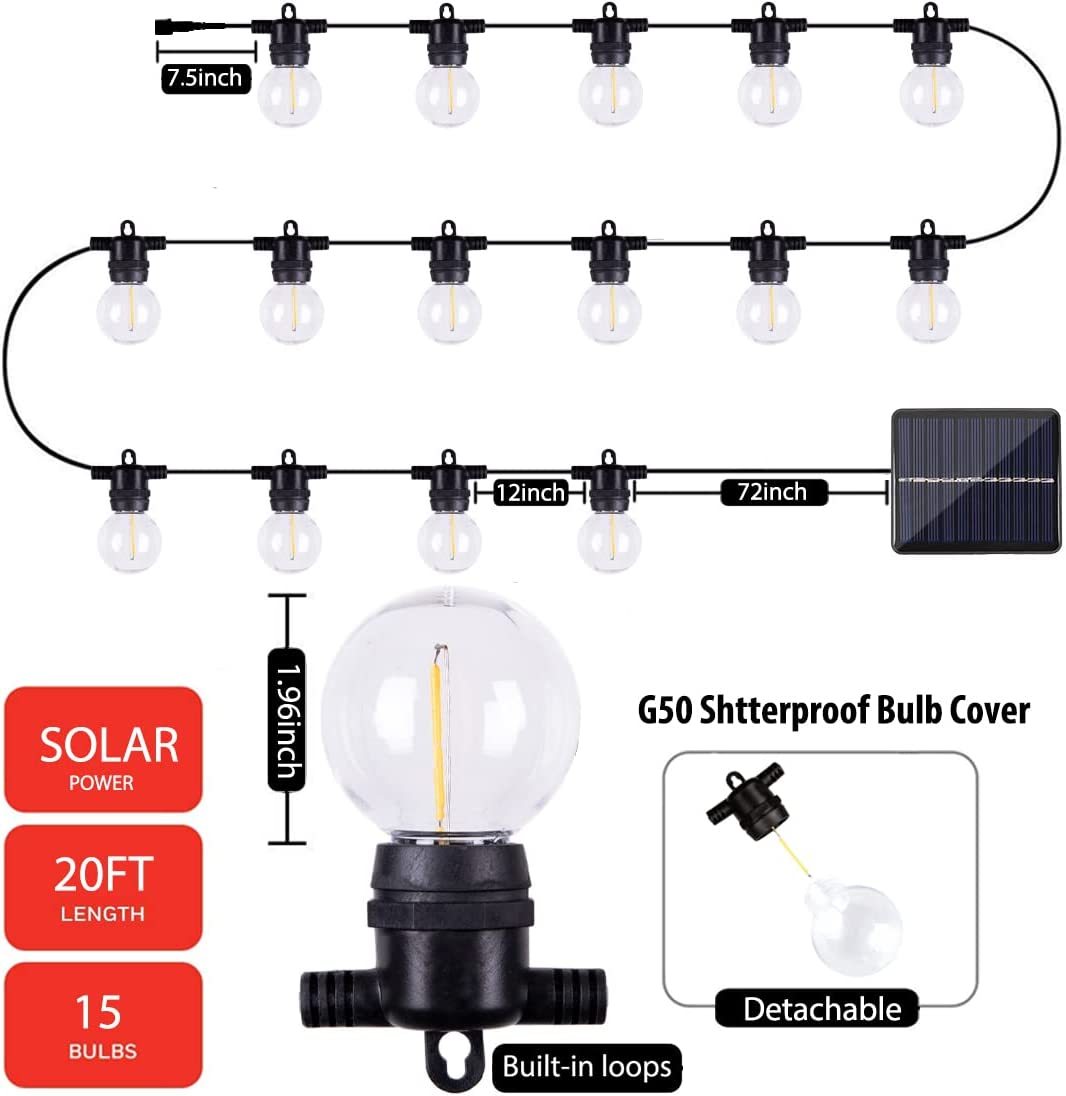 Products related to this item
---
---
Q: How are these decorative patio lights used?
A: Patio string lights are frequently used in outdoor settings, often installed temporarily for a party, wedding, or another special occasion. As the name implies, you'll often find them used in decorating patios for a festive occasion. And they're also great for decorating apartment balconies.
Q: What's the best way to hang these lights?
A: A variety of methods and materials can be used for installing patio string lights. The best approach, of course, will depend upon your setting. 

Q: Can these lights be left outside year-round?
A: These light sets are not really designed to handle weather exposure on a long-term basis. So in most cases, it's best to put these lights up for an event or party, and then take them down afterward.
In certain outdoor settings where the lights are largely protected from the brunt of the weather (such as a covered patio), they can be left in place long-term.
Contact us to realize your customization needs.
The import of the Decorative String Lights, Novelty Lights, Fairy Light, Solar Powered Lights, Patio Umbrella Lights, flameless candles and other Patio Lighting products from Zhongxin lighting factory is quite easy. Since we are an export-oriented lighting products manufacturer and have been in the industry over 13 years, we deeply understand your concerns.
The diagram below illustrates the order and import procedure clearly. Take a minute and read carefully, you will find that the order procedure are well designed to ensure that your interest is well protected. And the quality of the products are exactly what you expected.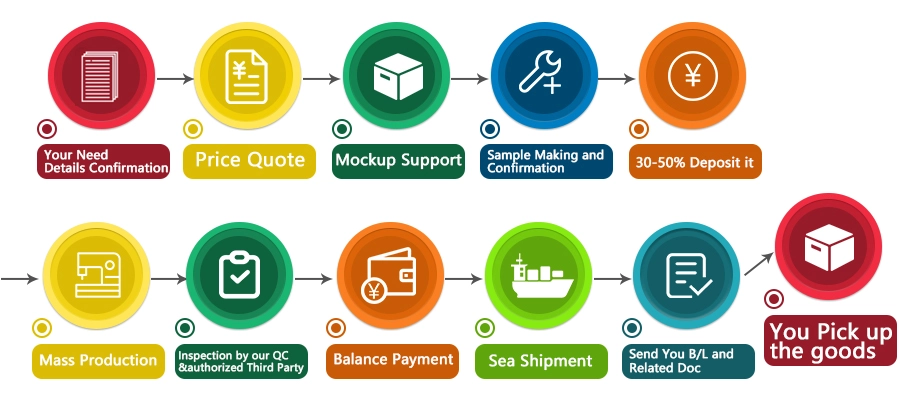 The Customization service includes:
Custom Decorative patio lights bulb size and color;

Customize the total length of Light string and bulb counts;

Customize cable wire;

Customize decorative outfit material from metal, fabric, plastic, Paper, Natural Bamboo, PVC Rattan or natural rattan, Glass;

Customize the Matching Materials to the desired;

Customize the power source type to match your markets;

Personalize lighting product and package with company logo;
Contact us now to check how to place a custom order with us.
ZHONGXIN Lighting has been a professional manufacturer in the lighting industry and in the production and wholesale of decorative lights for over 13 years.
At ZHONGXIN Lighting, we're committed to exceeding your expectations and ensuring your complete satisfaction. So, we invest in innovation, equipment and our people to ensure we are providing the best solutions to our customers. Our team of highly skilled employees enable us to provide reliable, high quality interconnect solutions that meet customers'expectations and environmental compliance regulations.
Each of our products is subject to control throughout the supply chain, from design to sale. All stages of the manufacturing process are controlled by a system of procedures and a system of checks and records which ensure the required level of quality in all operations.
In a global marketplace, Sedex SMETA is the leading business association of European and international commerce that brings retailers, importers, brands and national associations to improve the political and legal framework in a sustainable way.
To satisfy our customer's unique requirements and expectations, our Quality Management Team promotes and encourages the following:
Constant communication with customers, suppliers and employees
Continuous development of management and technical expertise
Continuous development and refinement of new designs, products and applications
Acquisition and development of new technology
Enhancement of technical specifications and support services
Continuous research for alternative and superior materials
Write your message here and send it to us