Outdoor Solar Lantern Hanging Decorative Solar Rattan White Lanterns Wholesale | ZHONGXIN
Product Detail
FAQ
Customization Process
Quality Assurance
Product Tags
The outdoor solar PP rattan lantern equipped with a solar Powered LED bulb, it will automatically turn on at dusk and off at dawn, saves energy, eco-friendly. 
Easy Hanging or Stand on Table
This LED outdoor solar lantern adds elegance and color to any outdoor space. With no wires to worry about, it can be hung up anywhere you like, whether on porches, trees, or pergolas with the handle provided. Furthermore, the bottom stand design allows it to be used as a table top lantern, creating a beautiful pattern on table tops.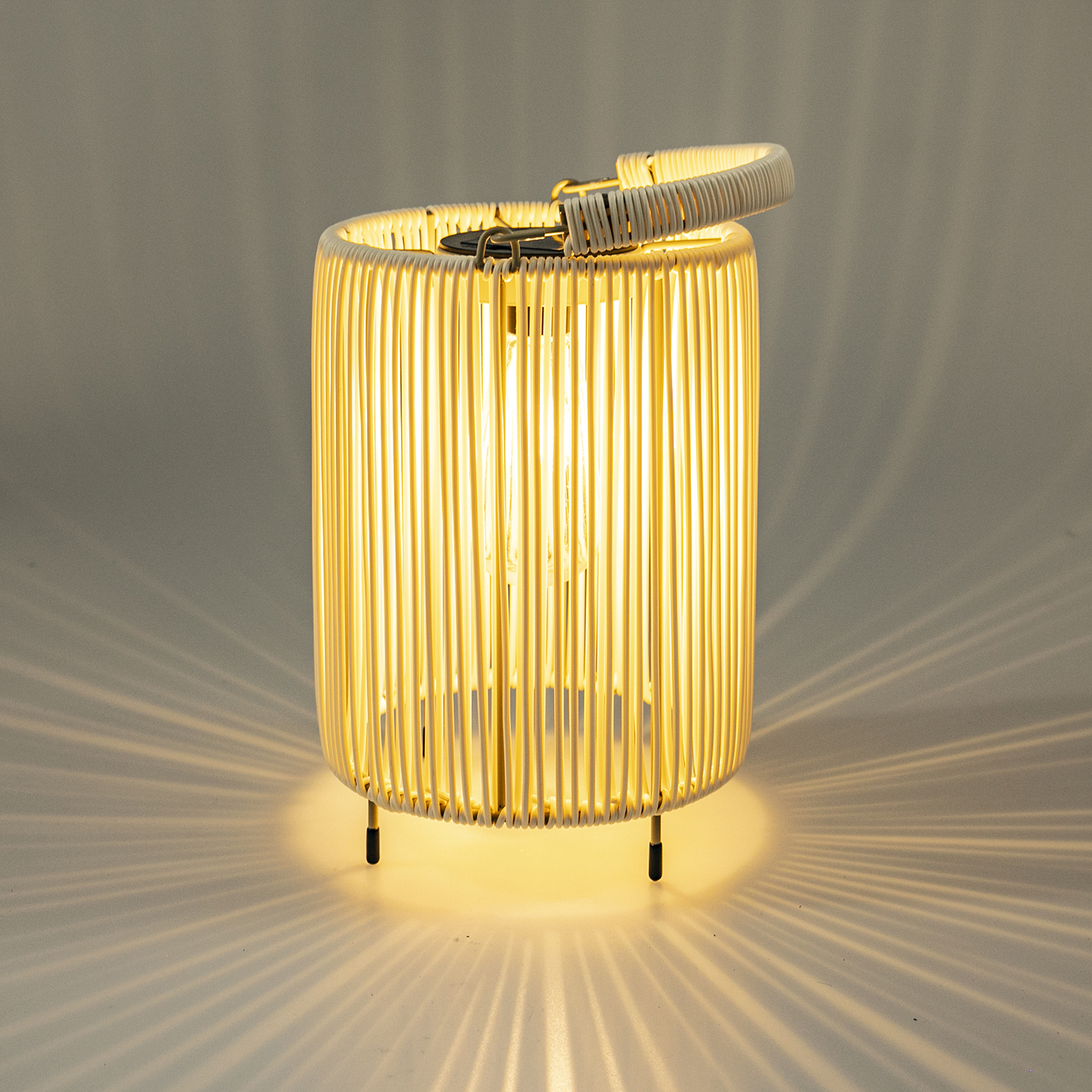 Customized size and Colors Finish
Create beautiful shadow patterns on the ground with our solar lanterns, available in various colors and sizes. These lanterns are perfect for adding a charming decorative glow to your pathway or for decorating your garden, porch, or yard.
【Imitated Rattan Solar Light】The hanging solar lantern is woven from PP rattan, it will not fade like metal lanterns and is more durable than normal plastic lanterns. Simple and beautiful style.
【Solar Powered Lantern】The outdoor solar lantern doesn't need a power cord, no electricity cost, simply put it in the sunlight. It automatically turns on at dusk and off at dawn.
【All-Weather Durable】The waterproof grade is IP44. White paint on the outside prevents rust. So ensure the solar lantern long lasting performance under most weather conditions.
【Light Up Living Space】The solar hanging lantern can be put anywhere you want, like placing on your tabletop or patio. Hanging on door or tree. Suitable for indoor and outdoor use, make your living place more beautiful day or night.
【Various Light Source for option】The solar Lantern can equipped with Solar Powered LED candle light or solar Edison bulbs, superior quality and construction.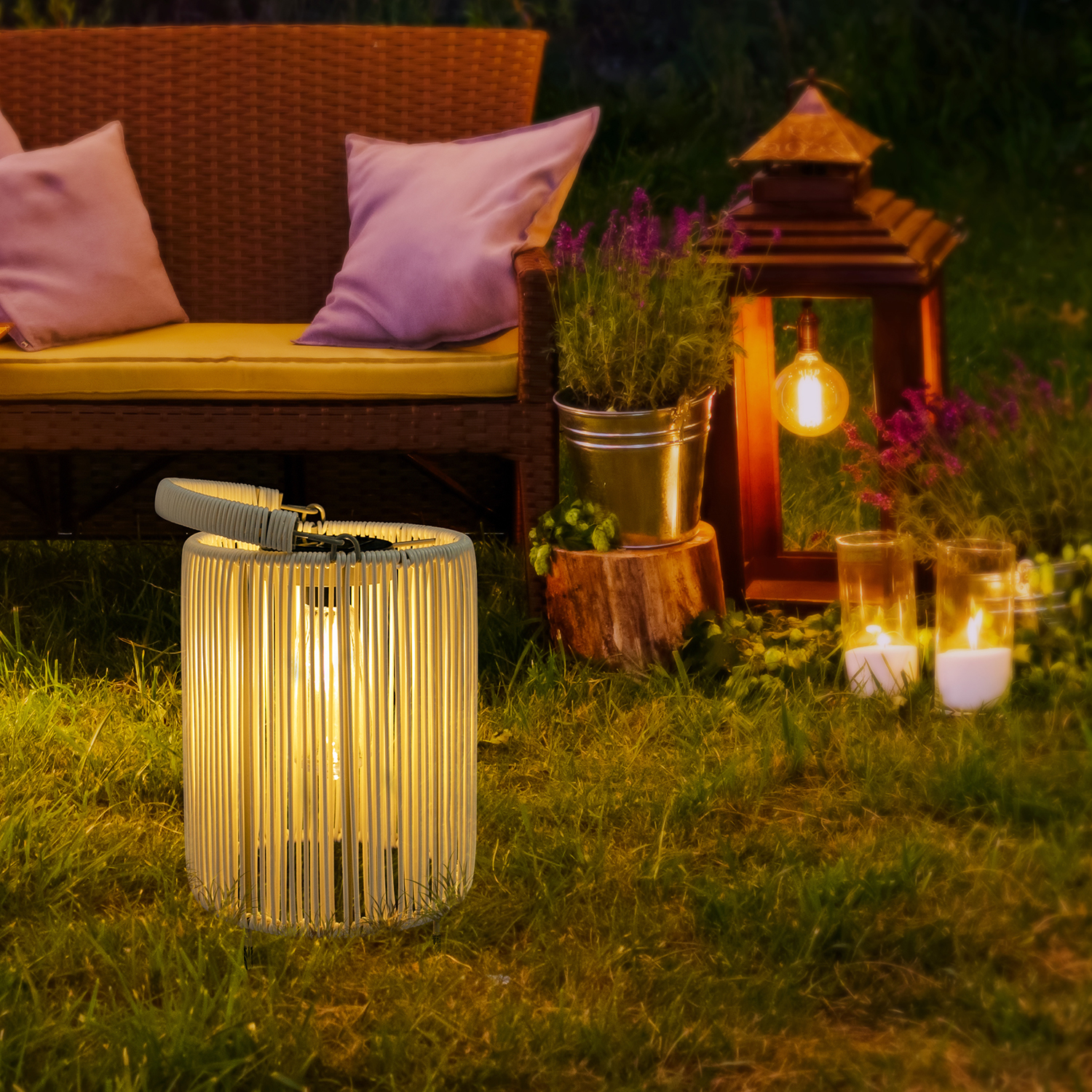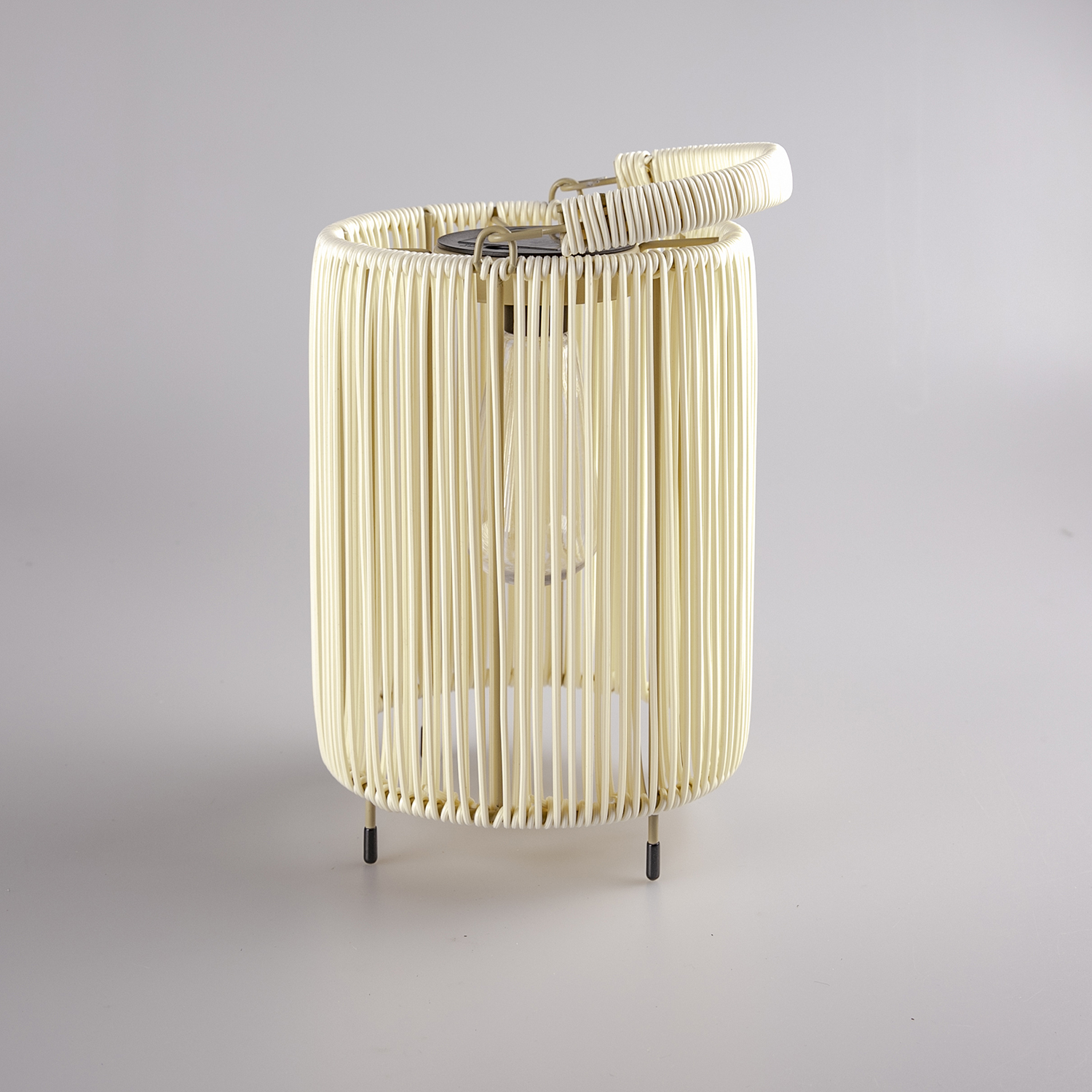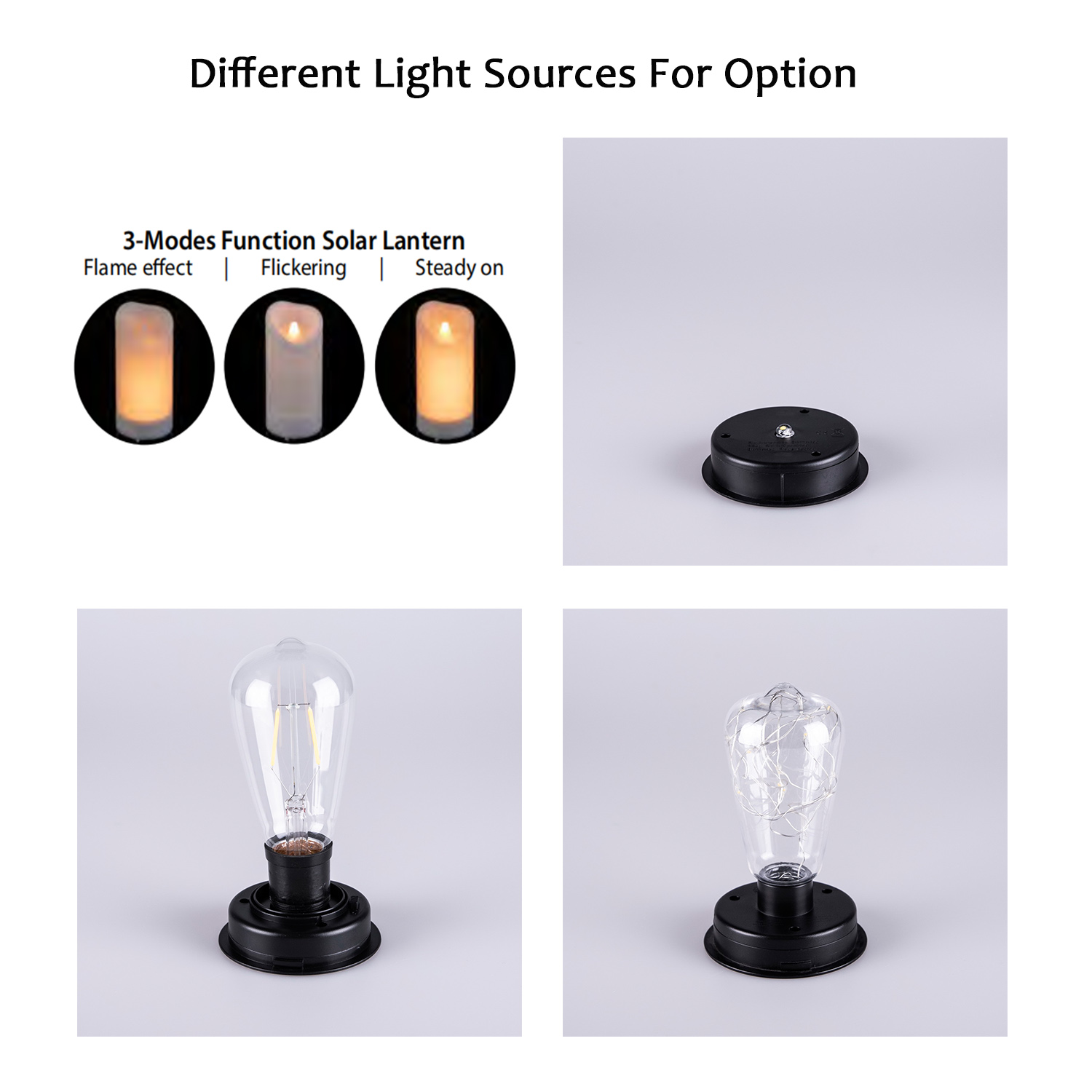 Transform outdoor seating areas into an enchanting haven lit with beautiful decorative Lanterns. Accept customize in colour finish and sizes, this lantern is made from a water resistant durable material,  perfect for outdoor use year after year.
Made of metal with White PP Rattan, LED bulb and rechargeable solar battery
On/off switch
Can be hung or used on tabletop
LED bulb is not replaceable
Charge solar panel 6-8 hours in daylight for approximately 6-8 hours of operation without sunlight
Duration of illumination is dependent on location, weather and seasonal light
If used outdoors, bring inside during inclement weather
Wipe clean with a dry cloth
19CM Dia. x 26CM H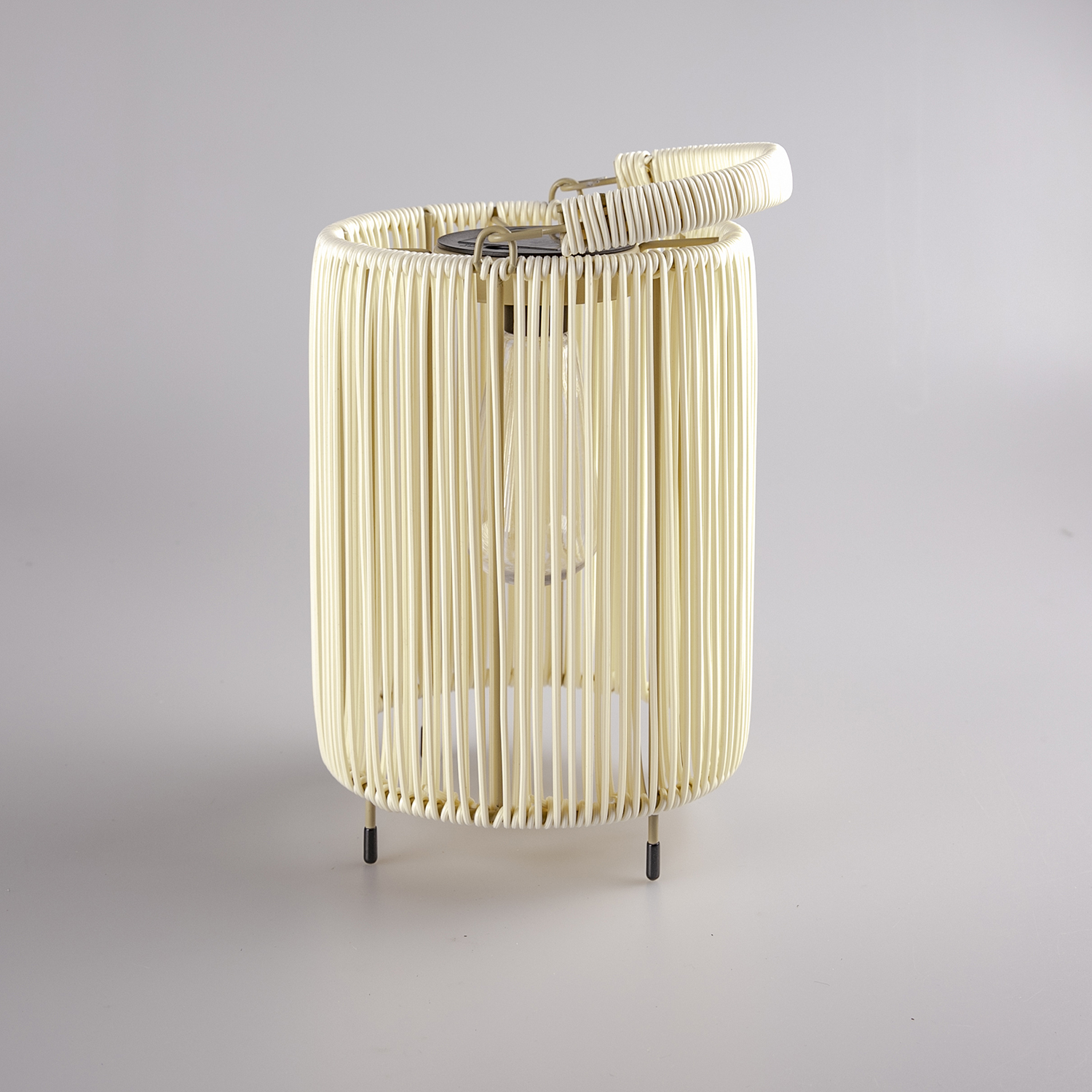 Products related to this item
---
---
Q: How do solar lanterns work?
A: Solar lanterns use a solar panel to convert sunlight into electricity, which is stored in a battery. This stored energy powers an LED light source, providing illumination when the sun goes down.
Q: How long do solar lanterns last on a single charge?
A: The length of time that solar lanterns last on a single charge varies depending on the capacity of the battery and the amount of sunlight the lantern receives. On average, a solar lantern can last between 6-12 hours on a single charge.
Q: Are solar lanterns weather-resistant?
A: Many solar lanterns are designed to be weather-resistant, but the level of protection can vary depending on the model. Be sure to check the product specifications before purchasing to ensure that it is suitable for your intended use.
Q: Can solar lanterns be used indoors?
A: Yes, many solar lanterns can be used indoors as long as they are exposed to sufficient sunlight during the day to charge the battery. Some models also come with a USB charging option for indoor use.
Q: What should I do if my solar lantern stops working?
A: If your solar lantern stops working, first check that the solar panel is exposed to sufficient sunlight and that the battery is not depleted. If the problem persists, consult the user manual or contact the manufacturer for assistance.
The import of the Decorative String Lights, Novelty Lights, Fairy Light, Solar Powered Lights, Patio Umbrella Lights, flameless candles and other Patio Lighting products from Zhongxin lighting factory is quite easy. Since we are an export-oriented lighting products manufacturer and have been in the industry over 13 years, we deeply understand your concerns.
The diagram below illustrates the order and import procedure clearly. Take a minute and read carefully, you will find that the order procedure are well designed to ensure that your interest is well protected. And the quality of the products are exactly what you expected.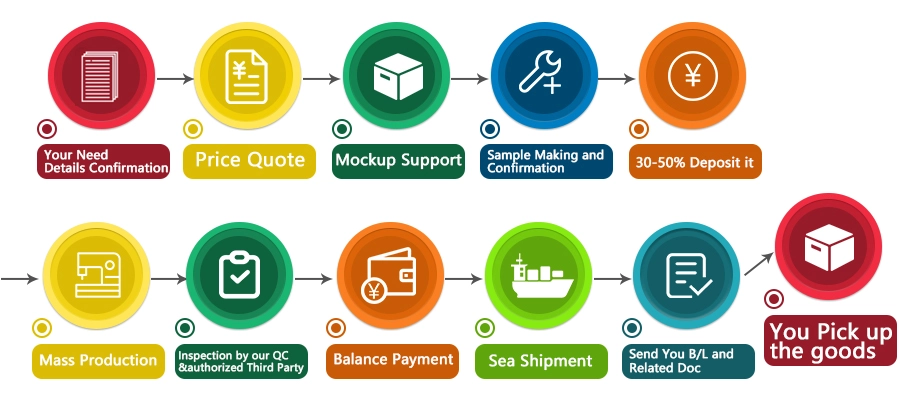 The Customization service includes:
Custom Decorative patio lights bulb size and color;

Customize the total length of Light string and bulb counts;

Customize cable wire;

Customize decorative outfit material from metal, fabric, plastic, Paper, Natural Bamboo, PVC Rattan or natural rattan, Glass;

Customize the Matching Materials to the desired;

Customize the power source type to match your markets;

Personalize lighting product and package with company logo;
Contact us now to check how to place a custom order with us.
ZHONGXIN Lighting has been a professional manufacturer in the lighting industry and in the production and wholesale of decorative lights for over 13 years.
At ZHONGXIN Lighting, we're committed to exceeding your expectations and ensuring your complete satisfaction. So, we invest in innovation, equipment and our people to ensure we are providing the best solutions to our customers. Our team of highly skilled employees enable us to provide reliable, high quality interconnect solutions that meet customers'expectations and environmental compliance regulations.
Each of our products is subject to control throughout the supply chain, from design to sale. All stages of the manufacturing process are controlled by a system of procedures and a system of checks and records which ensure the required level of quality in all operations.
In a global marketplace, Sedex SMETA is the leading business association of European and international commerce that brings retailers, importers, brands and national associations to improve the political and legal framework in a sustainable way.
To satisfy our customer's unique requirements and expectations, our Quality Management Team promotes and encourages the following:
Constant communication with customers, suppliers and employees
Continuous development of management and technical expertise
Continuous development and refinement of new designs, products and applications
Acquisition and development of new technology
Enhancement of technical specifications and support services
Continuous research for alternative and superior materials
Write your message here and send it to us