Solar LED String Lights Outdoor Wholesale | ZHONGXIN
Product Detail
FAQ
What to Look for in Solar String Lights
Customization Process
Quality Assurance
Product Tags
LED Solar Powered & Auto On/Off: Charging by solar energy, the garden string lights have no extra utility electric cost, and no need to replace the battery. These Solar Wisteria Flower LED string light are charged during the day and automatically turn on at dusk, and work up to 8-10 hours after fully charged.
Waterproof & Easy to Install: The solar Flower String Lights can withstand all kind of weather(IP44), Solar panel with ground stake and back clip, Installing by attaching with a clip (e.g. to pergola roof, patio umbrella) or a stake for ground mounting. It is easy to install for DIY and add flair to every occasion.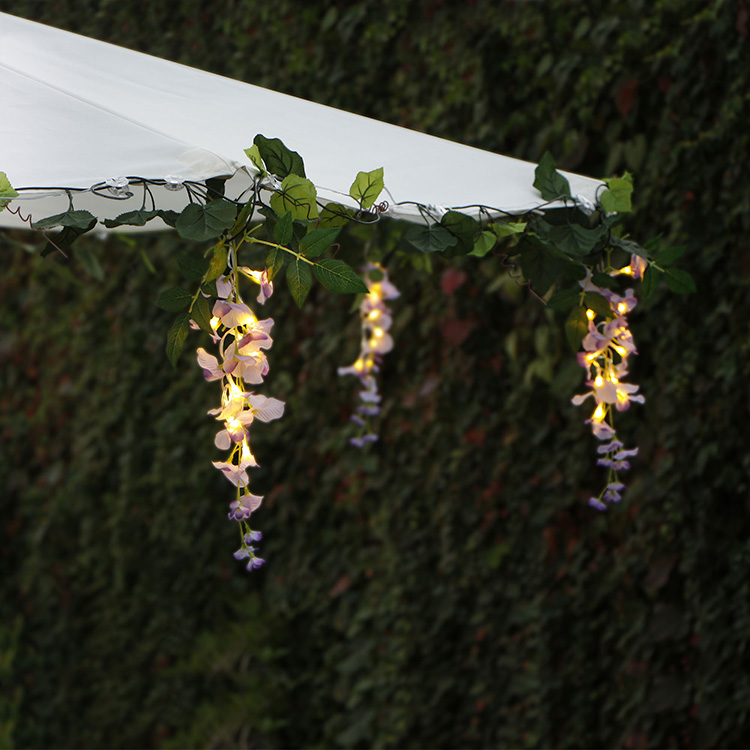 Wide Decorative Occasions: Wisteria is a symbol of love and happiness. Ideal decorations for home, garden, backyard, patio umbrellas, wedding, party, birthday, Christmas, and other celebration events, IP44 waterproof rate suitable for indoor and outdoor.
Looking for best decorative outdoor solar lights for your garden? Get ready to offer unsurpassed ambiance to all your visitors and guests after dark with our huge selection of awesome outdoor solar powered decorative lights. Solar Lights deliver vibrant radiance by harnessing the power of the sun during the day, and then using that power after dusk to light up your garden with colorful LED lights. Solar-powered outdoor lights also offer a sensible, affordable way to illuminate darkened paths after the sun goes down, guiding guests to your front door without added wiring or additional powering costs.
1. Solar Powered and Lights Sensor Technology
These warm LED wisteria string lights use solar energy to power the lights; During the day, the solar panel converts the sunlight into electrical energy and stored in the rechargeable built-in battery; At night, it will automatically turn on by light sensor, no need to turn on the lights manually, a good choice of saving your money and energy on electricity.
2. Unique and Widely Used floral string lights
Life-like flowers, full and soft petals, and leaves, natural-looking grapevine garland, warm white color LED lights; Suitable for decorating your home, wedding, festivals, parties, gardens, fencing, patio umbrellas, pergola, sheds and many more. Easy to hang it on the wall, doors, windows and anywhere as you like to enjoy it perfect atmosphere.
Specifications:
Material: Fabric Wisteria Flower with Grapevine Garland, Plastic Stems
LED Color: Warm White
Wire: Transparent Copper Wire
Lead Cord: 144 in.
Wisteria Cluster Spacing: 52 in.
Lighted Length: 260 in.
LEDs Quantity: 60pcs
Wisteria Cluster Quantity : 6pcs(each length: 14.5 in.)
Grapevine Garlands Quantity: 6pcs(each length: 59 in.)
Power Source: Solar Powered
Modes: Steady On / Flash
Solar Panel: 5.5V 100mAh
Battery: Built in 1pc 3.7V 1500mAh Rechargeable Battery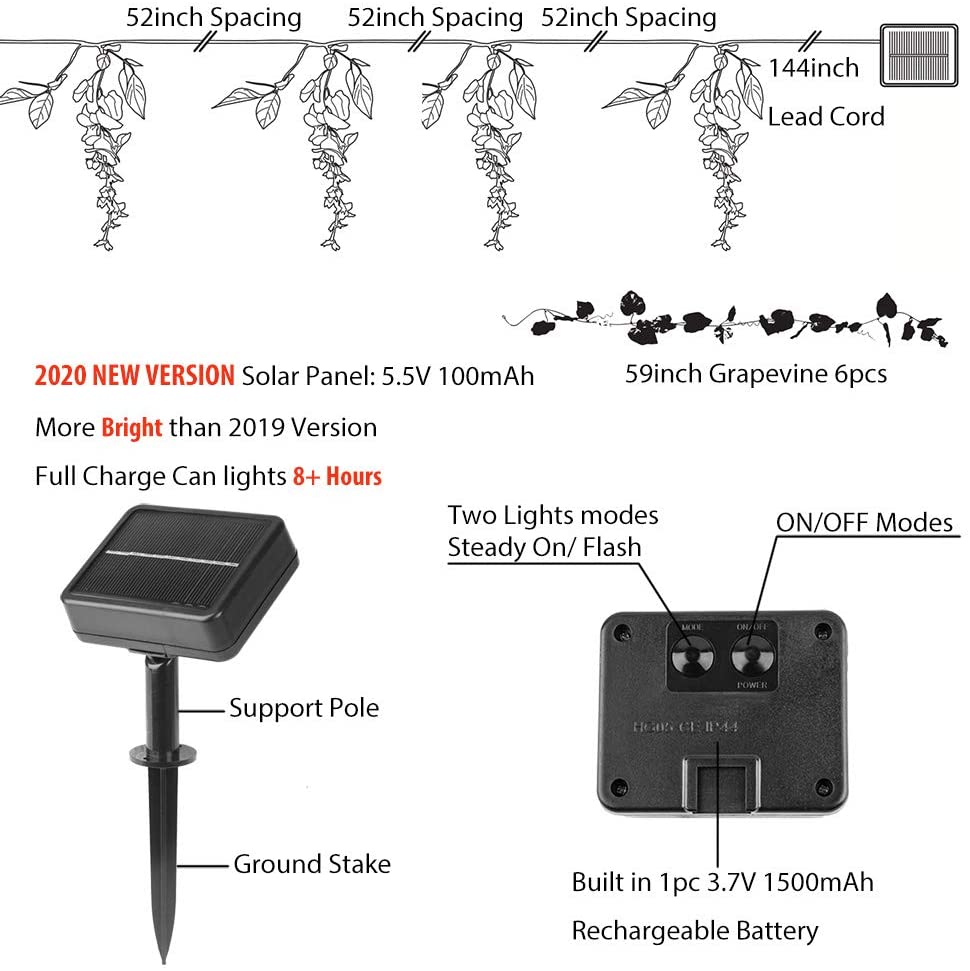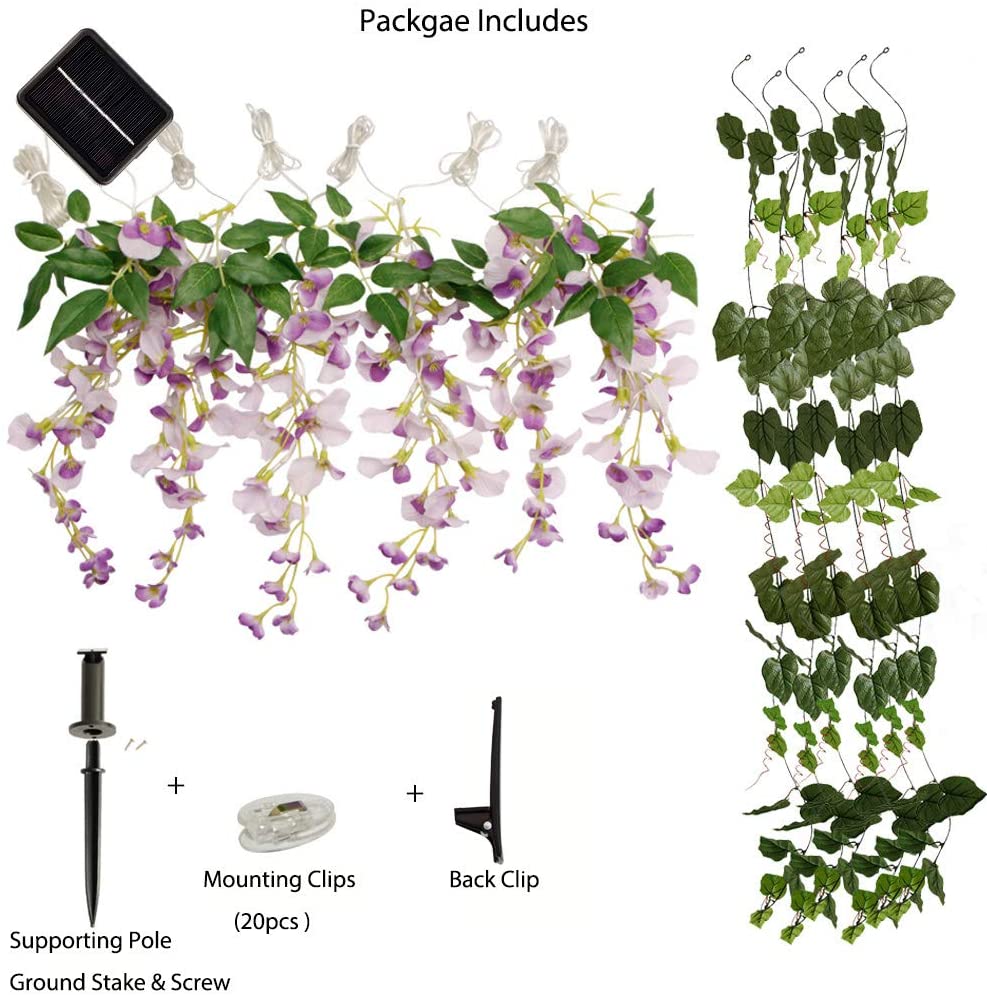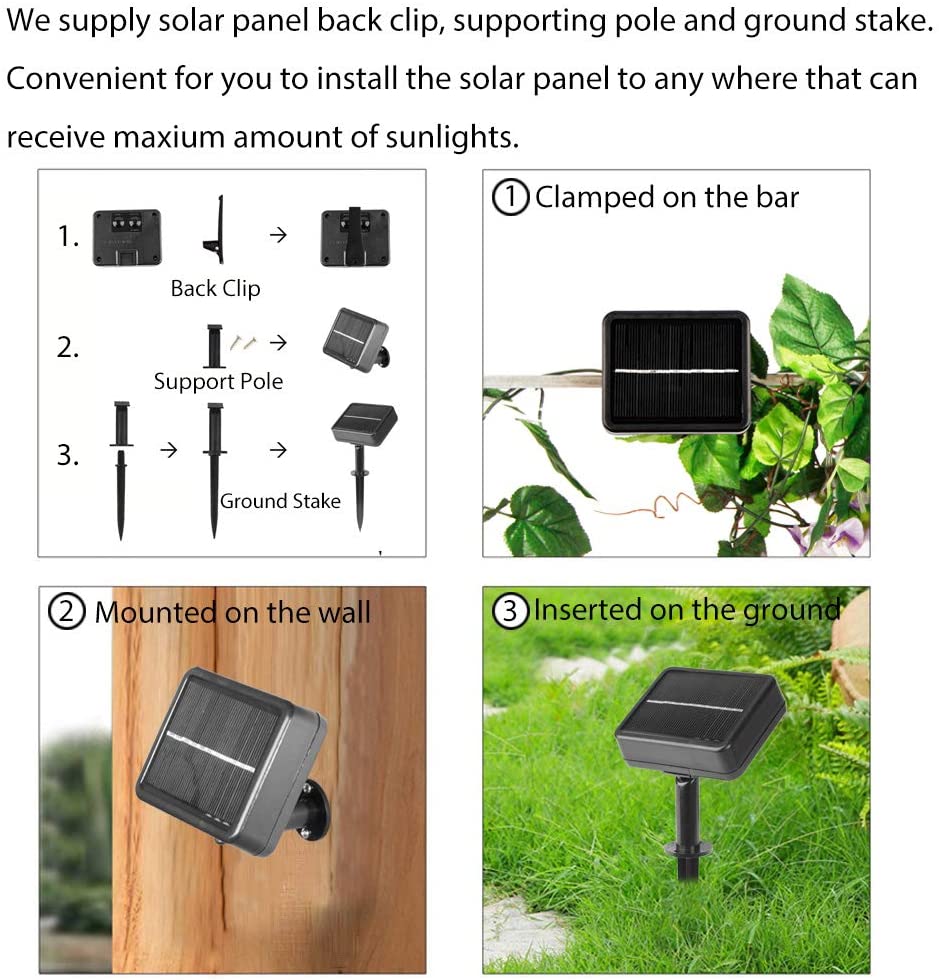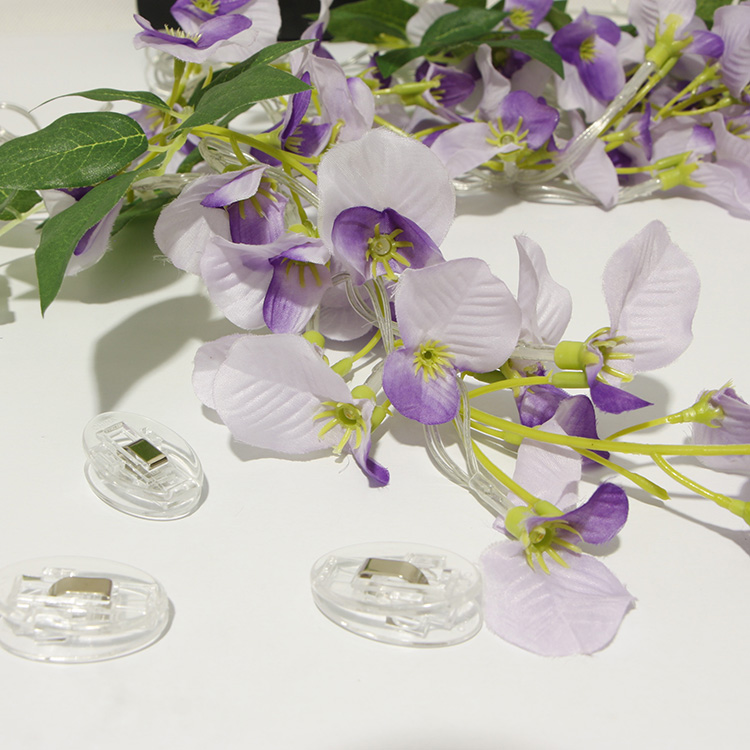 Products related to this item
---
---
Q: Are LED lights OK for outside?
A: Yes, the wisteria led lights is perfect to use outdoors.
Q: Can outdoor string lights survive winter?
A: Yes, but better to keep proper maintenance to prolong it's service life.
Q: Do outdoor LED lights need electricity?
A: Some outdoor LED lights powered by solar or battery which does not need mains power electricity. 
Q: Do patio string lights use a lot of electricity?
A: LED lights use very little electricity in comparison to traditional incandescent bulbs. 
What to Look for in Solar String Lights
Size and Shape
Different types of string lights serve different purposes. For example, Edison bulbs offer a soft, glowing appearance that are great for romantic settings like patios and outdoor dining spaces. Rope lights, for example, serve a different purpose in that they're often used more to light pathways like docks, fences, and pathways. When choosing your solar lights, be sure to consider what you'll be using them for and the space you're putting them in.
Brightness
You'll want to think about how bulbs are that you're buying will illuminate your space. Many times, solar lights won't put out quite as much light as traditionally powered lights, but many users are okay with that, as they're trying to create an ambiance of soft light or add to a romantic setting. Although some products don't list the number of lumens produced by string lights, a higher number of lumens indicated a brighter bulb. If you really want to light up a space using string lights, you might want to consider getting additional strands.
Weather Resistance
Since outdoor solar lights are exposed to the elements, selecting a set that stands up to rainy conditions and heavy gusts of wind is important. Having to take down the string lights every time they face inclement weather is not ideal.
First, check the product description to determine if the lights are intended for outdoor use. Using indoor lighting outside creates a potential fire hazard. Secondly, make sure the product is water resistant (or waterproof—even spots under a roof can grow damp in bad weather).
Weather-resistant lights can handle direct exposure to water and feature watertight seals to protect their interior parts from accumulating moisture and causing safety issues.
The import of the Decorative String Lights, Novelty Lights, Fairy Light, Solar Powered Lights, Patio Umbrella Lights, flameless candles and other Patio Lighting products from Zhongxin lighting factory is quite easy. Since we are an export-oriented lighting products manufacturer and have been in the industry over 13 years, we deeply understand your concerns.
The diagram below illustrates the order and import procedure clearly. Take a minute and read carefully, you will find that the order procedure are well designed to ensure that your interest is well protected. And the quality of the products are exactly what you expected.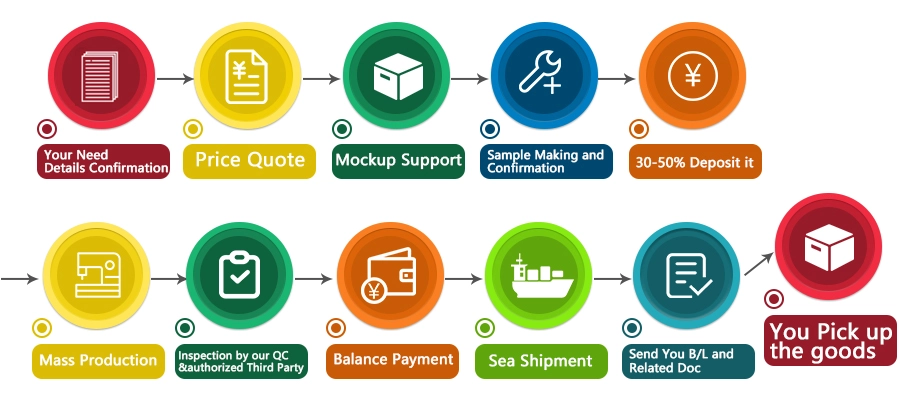 The Customization service includes:
Custom Decorative patio lights bulb size and color;

Customize the total length of Light string and bulb counts;

Customize cable wire;

Customize decorative outfit material from metal, fabric, plastic, Paper, Natural Bamboo, PVC Rattan or natural rattan, Glass;

Customize the Matching Materials to the desired;

Customize the power source type to match your markets;

Personalize lighting product and package with company logo;
Contact us now to check how to place a custom order with us.
ZHONGXIN Lighting has been a professional manufacturer in the lighting industry and in the production and wholesale of decorative lights for over 13 years.
At ZHONGXIN Lighting, we're committed to exceeding your expectations and ensuring your complete satisfaction. So, we invest in innovation, equipment and our people to ensure we are providing the best solutions to our customers. Our team of highly skilled employees enable us to provide reliable, high quality interconnect solutions that meet customers'expectations and environmental compliance regulations.
Each of our products is subject to control throughout the supply chain, from design to sale. All stages of the manufacturing process are controlled by a system of procedures and a system of checks and records which ensure the required level of quality in all operations.
In a global marketplace, Sedex SMETA is the leading business association of European and international commerce that brings retailers, importers, brands and national associations to improve the political and legal framework in a sustainable way.
To satisfy our customer's unique requirements and expectations, our Quality Management Team promotes and encourages the following:
Constant communication with customers, suppliers and employees
Continuous development of management and technical expertise
Continuous development and refinement of new designs, products and applications
Acquisition and development of new technology
Enhancement of technical specifications and support services
Continuous research for alternative and superior materials
Write your message here and send it to us