If you're excited to decorate your outdoor space with outdoor string lights but don't have an outdoor power plug nearby, you can still have outdoor lights! As an professional outdoor lighting manufacturer with over 13 years experience in home and garden decorative lighting industry, we're about to cover some creative options to power outdoor string lights without an outlet – even if you don't have any electric power whatsoever!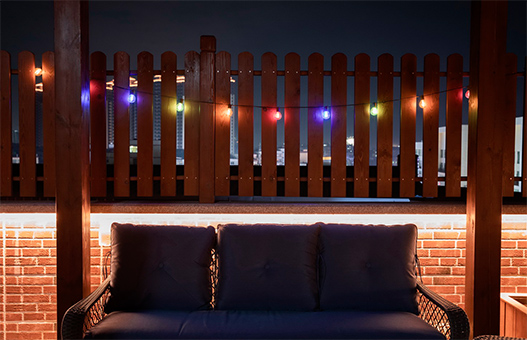 There are many ways you can light up your outdoor space even if you don't have an outdoor power outage. The options that we will discuss in more detail are:
1. Solar Powered Outdoor String Lights
2. Battery Powered Outdoor String Lights
3. Outdoor Extension Cords
Alternative Methods: How To Power Outdoor Lights Without An Outlet?
1. LED Candles
2.Collapsible Solar Lanterns
3. Patio Umbrella Lights
4. Battery Operated Pendant Light
1. Solar Powered Outdoor String Lights
When there is no outlet in your backyard, give solar powered string lights a chance. A solar powered outdoor string lights provides endless options for designing your gazebo, deck, patio, or any area outside without incurring electricity costs. Solar powered lights are not only energy-efficient but also environmentally friendly. What's more, they were designed with sufficient length of lead cord that enables you to hang the outdoor solar string lights wherever you want, just locate the solar panel to a place where it can receive enough sunlight during the day. 
2. Battery-Operated Outdoor String Lights
Apart from solar lights, battery operated outdoor string lights are also an excellent and modern option that doesn't need an outdoor outlet. Battery powered string lights manufactured by ZHONGXIN lighting were equipped with 3 AA indoor or outdoor waterproof battery case, when looking for outdoor string lights, make sure to choose those lights that are rated for outdoor use. Battery operated outdoor string lights usually designed with a Timer to save electrical energy and reduce frequency of battery replacement. What's more, many battery operated lights also equipped with a remote control for easy and convenient use. And if you want multi-function battery case for your lights or want logo print on the battery case, all can be achieved at ZHONGXIN lighting factory, welcome distributors, wholesaler and retailers contact us freely. 
3. Use Extension Cords
Safety first! Make sure to choose an extension cord rated for outdoor use as it is designed to withstand rain and sun, temperature changes. It is better to use heavy-duty extension cords since they are bulkier and have reliable insulation. The insulation will ensure that it can tolerate higher levels of voltage without heating up.
Alternative Methods: Light Up Your Outdoor Space with wireless Lights Without Relaying on Outlets
1. LED Candles
Wax candles may be an old way of lighting, but they're a low-cost wireless light source you can always get at your nearest shop. You can use candles for purposes beyond illumination. For example, they can boost mood and create a romantic atmosphere.
If you love candles but hate the traditional naked flame, you can use flame flickering LED candles. They resemble real wax candles, but they're a safe option because their wax does not drip.
Solar Powered candles are a safe, clean and elegant alternative to typical wax or soy burning candles. Our Solar Powered candles make use of LED lights that flicker just like a real flame. They provide the same look and ambiance but without the worry or mess. 
Solar candles produce the same level of romantic atmosphere sans the drips. Does not that sound amazing? Of course, it is. Since these solar candles are water-resistant, you can arrange a dine out outside. To put a cherry on top, these solar-powered candles are environmentally friendly and are highly durable in nature. Moreover, you would not have to worry about fire hazards.
2. Collapsible Solar Lantern Lights
If you want to light up your backyard without extra electricity bills, collapsible solar lantern light is a no-brainer. Further, they're pretty lightweight and easy to set up because no wires or cords are needed.
During the day, solar light batteries store enough energy from the sun's rays so that the light fixtures can provide wireless illumination at night. When the night falls, the photoresist on solar lights detects the sun's absence and automatically activates the lights.
Solar lantern lights are an innovative and cost-effective way to add vibrant colors to your outdoor settings.
The NEW collapsible solar lantern was designed and manufactured by ZHONGXIN Lighting, no patent issues. 
3. Battery-Operated Patio Umbrella Light
This battery powered umbrella light uses batteries to light up patio umbrella in your yard. It's ideal for when you switch to off-grid lighting to cut electricity costs or when there's an emergency power outage. Battery-operated umbrella light eliminates the need for electrical outlets and tedious wiring.
For the battery to last longer, only use your outdoor umbrella light when needed and switch it off when not in use to avoid draining the battery.
The hot sale ZHONGXIN umbrella light is excellent for your garden, yard, or pathway. Not only is it lightweight and portable, but it also comes to update your old, dusty umbrella with a more modern version.
Final Thought
You can power outdoor string lights conventionally by plugging them directly into your home or via an extension cord. If that isn't an option, try more unconventional methods. Consider solar power, battery power, rechargeable lights or some wireless lights. Contact the decorative string lights supplier to learn more outdoor lighting products. Most items support OEM & ODM service and can be custom-mdae with your own logo and retail package.

---
Post time: Jun-10-2022