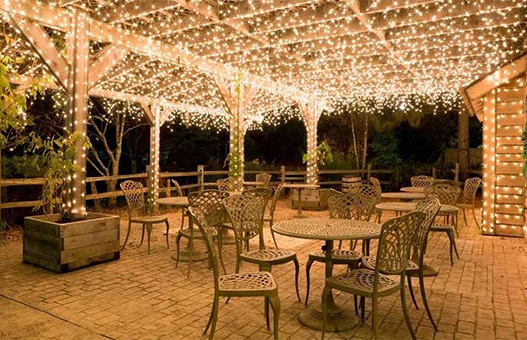 Where to attache your outdoor string lights?
You have several options regarding where to hang your outdoor string lights.
1) trees
2) house, garage, shed, or other building
3) fence or wall
4) under the roof of a covered deck or patio
5) DIY posts or poles in the ground
6) DIY posts or poles in planters or umbrella stands
7) deck railing
For softer wood like your porch, fences, or deck posts, you may want to use wall anchors to secure the hooks in place. Wall anchors are not mandatory, but if you can anchor your lights into a solid piece of wood like a stud, that will provide fantastic support for a long time. 
You don't need to add additional anchors of any kind for trees.
What kind of pattern you want to create?
After you have choose the right place for your wholesale outdoor string lights, you need to predetermine how to hang them. There are six popular ways to hang your outdoor string lights. The easiest methods are probably parallel and V-shaped, pictured below.
Parallel string lights
V shaped string lights
1) Parallel
2) Square
3) V
4) W
5) Horizon point
6) Tent design
Horizon Point String Lights
How many outdoor string lights you will need?
After you have decided how to hang your outdoor decorative string lights, the next step is to make a rough sketch of your outdoor space and measure the space for your lights from tree to tree or structure to structure. 
After you take your measurements, add about five feet to each measurement you've made so the lights are not completely taut when you hang them.
They should sit loosely and make a nice round curve over your outdoor space.
What to consider when choosing the best outdoor string lights?
When choosing your lighting, consider the following:
Look for removable bulbs 
They are easier to deal with. You can set up the lights without the bulbs and then insert them after. They are also better in the long run because you can just replace bulbs if they go out and not the entire string of lights.
This may seem like a pain but it prevents you from breaking any of the lights while hanging them.
Look for shatterproof bulbs 
They are more safety. If your bulbs break or get damaged, shatterproof bulbs will contain the shards of glass and keep everyone safe.
Invest in commercial-grade string lights

Commercial lights are built to withstand the elements and heavy use. Commercial-grade string lights often come with the cord and bulbs sold separately.
Buy some replacement bulbs or extra string lights. This will make it easy to replace any bulbs that go out or strings that get worn down or break.
Test the lights before you hang
This is a simple yet important step. All too often folks go to all the work of hanging up their outdoor string lights. Then when they step back and hit the switch, half the strings don't light up.
Take a moment and plug in each string that you plan to use to make sure it works first. Also, check for any individual bulbs that may have burned out. It's a lot easier to change them on the ground rather than after they're hanging.
Plus, sometimes an entire string of lights won't work when only one bulb is out. You have to go through and test each bulb one by one to find the offending one. This is a whole lot easier to do on the ground.
Find the Perfect Outdoor String Lights
Wondering where to find a great selection of outdoor string lights? Try checking out our vast selection of decorative outdoor string lights for the holidays.
If you're looking for ideas for your outdoor space, check out our lighting projects page. There are tons of ideas on there for the perfect way to spruce up for space!
---
Post time: Sep-17-2022