As of 17:13 p.m. Et on March 27, there were 100,717 confirmed covid-19 cases and 1,544 deaths in the United States, with nearly 20,000 new cases reported daily, according to Johns Hopkins University.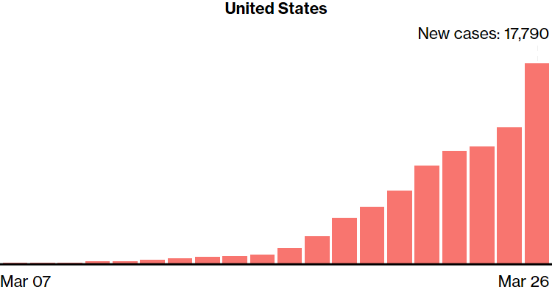 US President Donald Trump has signed into law a $2.2 trillion economic stimulus bill to combat COVID 19, saying it will provide much-needed assistance to us families, workers and businesses. CNN and other us media have reported that the bill is one of the most expensive and far-reaching measures in our history.
Meanwhile, the detection capacity of novel coronavirus began to improve, but as of Tuesday, only New York had more than 100,000 people tested, and 36 states (including Washington, d.c.) had fewer than 10,000 people tested.
On March 27, President Xi Jinping had a telephone conversation with US President Donald Trump at his request. This was the first and second call since the outbreak of COVID 19.
At present, the epidemic is spreading all over the world and the situation is very serious. On May 26, President Xi Jinping attended the g20 special summit on covid-19 and delivered an important speech entitled "jointly combating the epidemic and overcoming difficulties". He called for effective international joint prevention and control and resolute efforts to fight the global war on covid-19 epidemic prevention and control and called for strengthening macroeconomic policy coordination to prevent the world economy from falling into recession.
The virus knows no borders and the epidemic knows no race. As President xi said, "under the current circumstances, China and the United States should unite to fight the epidemic."
Trump said, "I listened carefully to Mr. President's speech at the g20 special summit last night, and I and other leaders appreciate your views and initiatives.
Trump asked Xi about China's epidemic control measures in detail, saying that both the United States and China are facing the COVID 19 epidemic challenge, and he was glad to see that China has made positive progress in fighting the epidemic. The experience of the Chinese side is very enlightening to me. I will personally work to ensure that the United States and China are free of distractions and focused on anti-epidemic cooperation. We thank the Chinese side for providing medical supplies to our side to combat the epidemic, and for strengthening exchanges between the two countries in the medical and health fields, including cooperation in the research and development of effective anti-epidemic drugs. I have said publicly on social media that the American people respect and love the Chinese people, that Chinese students are very important to American education, and that the United States will protect Chinese citizens in the United States, including Chinese students.
It is hoped that the whole world will unite to fight against the epidemic and make every effort to win the battle against this virus.
---
Post time: Mar-28-2020