There is nothing like a relaxing evening on a patio or deck, illuminated by outdoor lighting. ZHONGXIN Lighting factory features a great lighting selection to create ambiance that make any summer evening a memorable one with friends and family. Wholesale our unique selection of Outdoor String Lights, Fairy Lights, Solar Candle Lights, Decorative String lights, and Rope Lights to refresh your customers and increase your local sales. We also have decorative Outdoor Solar Lanterns, and Flicker Flame Light perfect for placement on a patio table or deck post. If someone need lighting away from their house or don't want to mess with plugs and cords, we also carry a great selection of Solar Lights. Contact us now to get great deals on lighting products for your wholesale and retail business.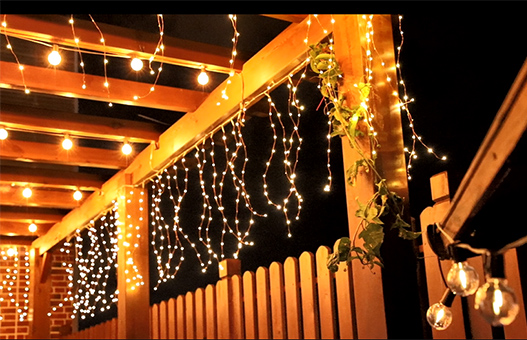 Below, we rounded up the 6 most efficient, attractive, and practical outdoor lights. Get ready for your business!
1. Outdoor String Lights
2. Firefly Fairy Lights
3. Solar Candle
4. Rope Lights
5. Collapsible Solar Lanterns
6. Flicker Flame Pendant Light
1. Solar Powered Outdoor String Lights
Hanging solar string lights around your patio can create the perfect atmosphere. Wholesale led outdoor decorative string lights provide ambient lights in a wide range of colors. You can wrap string lights around posts, string along fences, or hang them from the ceiling.
DIY string lights can be simple fairy lights for a fence or elegant bulbs and globes to create a romantic or relaxing atmosphere.
2. Firefly Lights
The Solar Firefly Lights allows you to relive your childhood memories by watching the solar fireflies flicker intermittently just like in nature! The solar rechargeable battery (included) absorbs sunlight during the day and automatically turns the simulates real fireflies color LEDs on at dusk!
4. Rope Lights
Rope lights can be shaped into Christmas tree lights, for example, or used outdoors to light up your walkway or patio. You can also bend them to form a word or phrase (I.e. Happy Birthday) or use them as a frame around your doorway or piece of art. The newest rope lights are all made from weather-resistant material, meaning they'll hold up to rain, snow and other harsh conditions without dimming. 
5. Collapsible Solar Lantern Lights
If you want to light up your backyard without extra electricity bills, collapsible solar lantern light is a no-brainer. Further, they're pretty lightweight and easy to set up because no wires or cords are needed.
During the day, solar light batteries store enough energy from the sun's rays so that the light fixtures can provide wireless illumination at night. When the night falls, the photoresist on solar lights detects the sun's absence and automatically activates the lights.
Solar lantern lights are an innovative and cost-effective way to add vibrant colors to your outdoor settings.
The NEW collapsible solar lantern was designed and manufactured by ZHONGXIN Lighting, no patent issues. 
Conclusion
Whether you're looking for a highly decorative piece or energy-efficient LED lighting, take a look at more LED outdoor lighting options to get some inspiration for your patio. Make sure the lighting fixtures you select are damp-rated or waterproof so your outdoor patio lighting will be able to withstand the elements all year round.

---
Post time: Jun-24-2022