How many times have you found yourself sitting around the patio table in your yard, relaxing with your family, and enjoying a perfect day of it? It's one of the quality time that we can leave the work behind and just relish the pleasant moment. But it can be hard to keep the pleasant moment going once the sun goes down. As the evening cools and sitting outside in the dark isn't exactly anyone's idea of a great time, right?
If you want to keep the good times rolling even after the sun goes down, now might be an ideal time to consider searching for the best patio umbrella lights to brighten up your backyard patio.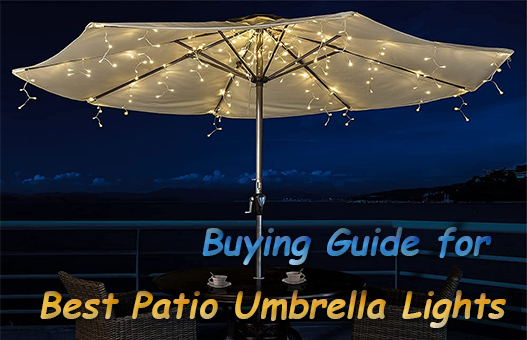 Patio umbrella lights come in different forms. The lantern variety may hang from the sides of the umbrella, while circular LED patio lights are positioned around the umbrella pole at the top. Some patio umbrellas come affixed with string lights. Indeed, there are many outdoor umbrella models in the market and finding the best one becomes tricky. 
Here, in this buying guide, you came to know all about patio umbrella lights and how to choose your best lights.
Types Of Patio Umbrella Lights
One should think about the purpose of using these lights (what you expect to get out of this lighting) before buying these patio umbrella lights. Pole, String style and lantern style are three main types of lighting available for patio umbrella, in which one has to choose their best based on their requirement.
1. String Style Lights
Looking to create a warm ambiance to hang out with loved ones (or) add some accent lighting to the landscape project in the evening, then set up these string style lights that decorate the ribs of the umbrella for perfect lighting. They are string lights that adorn the ribs of the umbrella and are purchased as a single unit.
2. Pole Style Lights
If you require lighting to do certain tasks like serving food, reading a book, or playing card games with friends, then go with disc/pole style umbrella lights. They offer a brighter and concentrated illumination. These are affixed around the top of the umbrella pole, and they can be square or round in shape Powered by battery.
3. Lantern-Style lights
These are self-contained portable lights that can hang from underneath the patio umbrella. They are almost always solar-powered and come in a variety of sizes and brightness. While they are advertised as patio umbrella lights, they can move easily and work well in any outdoor space.
Based on the type of power source you are using, the patio umbrella lights can be available in three variants – mains, solar, or battery-powered lights. Each lighting power source has its set of pros and cons (up and downsides). Here is a detailed explanation to know which one is suitable for you.
1. Battery Powered
Battery-operated patio umbrella lights are practical, aesthetic, eco-friendly, energy-efficient, and convenient. It ensures you enjoy lights whenever wherever you need them, without any cable/wire connection over the patio area/power outlet.
2. Solar Powered
Here the solar-powered lights will absorb and store the received sunlight during the daytime. When it gets dark, the stored energy will turn on the lights. These are the perfect eco-friendly lighting option for those living in sunny areas, while the weather in your area is cloudy, then solar lighting won't have its full potential.
3. Mains Powered
This type of umbrella light offers constant lighting all night and is a perfect option for parties. All it requires is to plug into a constant mains power supply. They are a reliable and affordable option yet consumes electricity for their proper functioning. Its main drawback is its power cords, which spreads all over the patio. Also, it is a bit risky that anyone can stumble on these grass hidden cables at night when they are tired. Plus, its long cords won't match the garden design.
Patio Umbrella Light Prices
Inexpensive: For under $20, there are many affixed pole light options. At this price point. you can still find rechargeable and dimmer options.
Mid-range: For $25 to $60, you will be able to purchase the lantern style of patio lights. They tend to come in groups of two or four, but there are a variety of different looks available.
Expensive: For over $60, you can forgo buying lights to add to your patio umbrella and instead purchase an umbrella that comes with preinstalled lights.
Other Things you Should Consider
Although you might have the decision now to buy the best patio umbrella lights, before pay, check one more step of what's your umbrella like? Following are the two types of patio umbrella we can found in the market, from the photos we can see that one design is with umbrella pole in the side, and another the pole is in the middle.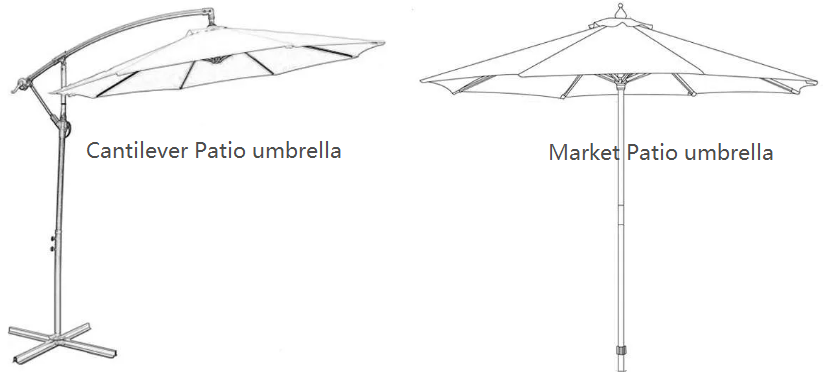 Therefore, if your umbrella pole is in the middle, the round shape umbrella lights with clamp are perfect. It's easy to attach to the pole and can light up the patio table where you need it exactly.
But, if the umbrella pole is from the side, mount the light to the pole is not an option now since it shines to the wrong area. In this situation, you can check whether the light is with hooks on top, if so, then you can just hang it on the spoke. Otherwise, you can also use the umbrella string lights, so that you can run these lights up to each spoke and tight it with the zip ties. The umbrella string lights maybe not offer a direct light to your patio table, but it could be also served as decorative lighting and send a joyful atmosphere.
Below Patio Umbrella Lights have upgraded versions that designed with accessories, they are not only for middle pole umbrellas, but also suitable for cantilever patio umbrella when using with accessories packaged with the product. 
---
Post time: Aug-19-2022