Do you want to spruce up your backyard oasis, patio, or even apartment balcony? String lights can add a festive twinkle to your space that's perfect for romantic alfresco dinners in the summer, a relaxing outdoor happy hour, or holiday decorations. However, traditional string lights require being plugged in, which increases your electric bill and can contribute to planet-heating pollution unless your home is already powered by renewables. 
Solar string lights run on energy from the sun and are handy if you don't have an outdoor outlet available. Just make sure the charging panel is in a location that gets plenty of sun, and as darkness creeps in, watch as your outdoor space comes to life with light. 
Here are the best solar string lights:
Our Favorite Solar Lights at a Glance: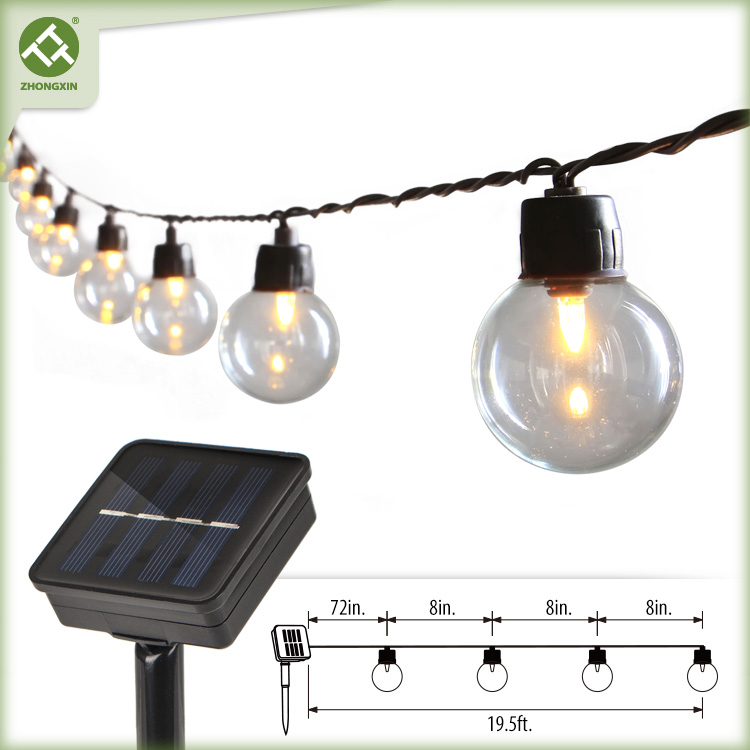 WEATHERPROOF - Completely safe for outdoor use, these Solar Edison String Lights are water and dust resistant - staying strong in most harsh weather conditions - so you can use in any season
EASY SETUP - The solar panel setup is simple, quick, and easy - just connect the panel to the stake, place it in the ground, and charge it in direct sunlight - then your LED lights will be powered and ready to go.
The 25ft solar LED outdoor string lights contains 20 ST58 shatterproof durable plastic shaped LED Bulbs. They have a color temperature of 2700K, and shine brightly, but not too harshly. Nice illumination, creates a great comfortable environment on the patio. Shape or shatterproof bulb, color of the bulb as well as LED color are customizable to support all year round use including holiday season decoration
The Solar Outdoor Patio String Lights features 20ct. G40 LED Edison Bulbs with 25ft Brown or Black Wire, gives off a warm, nostalgic glow, easy to create a great atmosphere where you can sit back, relax, and enjoy the evening. LED Light Bulbs have Candelabra (E12) Socket Base; Low wattage and solar-powered, don't need an outdoor outlet, save money on electricity. You have endless options when it comes to decorating with your string lights. Spruce up your pool fencing or deck area, string along an arbor in in your garden for decorative lighting.
The Solar Firefly Lights allows you to relive your childhood memories by watching your solar fireflies come to life as they flicker intermittently just like in nature! The solar rechargeable battery (included) absorbs sunlight during the day and automatically turns the simulates real fireflies color LEDs on at dusk!
72" lead cord, 7 firefly LEDs each on a 20" 24" 36" 48" length green wires, different length wires, convenient for you to arrange each wire in a different position.
What Are The Different Types of Solar Lights?
Solar lights can be used purely for ambience and decoration, or can have a more practical function such as illuminating a path or providing security lighting. Some of the most popular types include:
Fairy lights
Think of the lights on a Christmas tree - they have small, dim LEDs, narrowly spaced along a wire, and are ideal for decorative lighting.
String lights
The bigger, brighter cousin of fairy lights. Also on wire, but the bulbs of string lights are spaced out more widely than fairy lights, and are much brighter, for festival-style illumination.
Fence lights
Small up or down lights, these sit on fence posts or can be mounted on walls, for lighting all the way along your boundary.
Stake lights
These tend to be spiked stakes with bulbs at the top that provide low-level lighting, ideal for guiding the way along a path or softly lighting flowerbeds.
Solar lanterns
LED bulbs housed in lanterns, designed to be hung up or freestanding on a table or patio.
What Are The Benefits of Solar Lights?
Solar lights are environmentally friendly lighting. With a good set of solar lights, you can create an ambience that lets you enjoy your garden long after dark.
Powered by solar panels, they absorb daylight and convert it to electrical energy, charging your lights so they're ready to go at night. Unlike mains-powered lights, solar lights are cheap and easy to install, and because these eco-friendly lights are powered by the sun, they'll save you money on electricity bills and batteries. With the right lights, you can have effective, automatic garden lighting that won't break the bank.
The best solar string lights are safe to hang up outdoors, giving consistently bright light for five hours or more (i.e., all evening). The decorative accessory can be hung anywhere as the finishing touch to your backyard or balcony. As long as you have the sun shining on them, you'll have light. 
Welcome retailers or distributors to wholesale solar powered outdoor string lights from ZHONGXIN LIGHTING! Contact us today to get the latest catalog and best offer.
---
Post time: Nov-26-2022