Cheery Christmas lights are essential for the Christmas holidays. They may be most often associated with Christmas trees, but who knows? Christmas lights can also be used for many other things. For instance, decorating around the inside of your home with Christmas lights would be a great idea for your Christmas holidays this year. Though people usually choose to use lights only for their tree, there are many other places around your home where they can be used.
Christmas Lights- History
It all started with the simple Christmas candle, which is credited to Martin Luther who, legend says, came up with the Christmas tree in the 16th century. The Christmas tree survived quietly for centuries until electric Christmas tree lighting came on the scene in the early 1900s and, as they say, the rest is history.
The first electric Christmas lights debuted in the White House in 1895, thanks to President Grover Cleveland. The idea began to catch on, but the lights were expensive, so only the wealthiest of the wealthy could afford them at first. GE began to offer Christmas light kits in 1903. And starting around 1917, electric Christmas lights on strings began to make their way into department stores. Costs gradually dropped and the biggest marketer of holiday lights, a company called NOMA, was wildly successful as consumers began to snap up the new-fangled lights across the country.
Outdoor Christmas Lights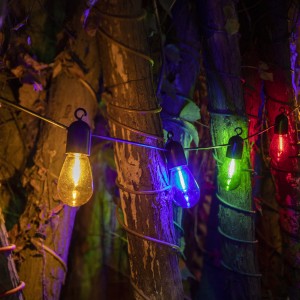 There are huge selections of outdoor Christmas lanterns available of all different shapes and sizes. It is possible to purchase white, colored, battery-operated, LED lights, and plenty more besides. You can choose to have your bulbs on green wire, black wire, white wire, or a clear wire too to help keep it carefully hidden, and even different light shapes. Nothing says Christmas is here more than icicle lights displayed outside. These look sensational when displayed up against the house. Warm, white bulbs give a very elegant look, but if you want a more fun display then colored bulbs work extremely well. If you choose LED lights for displaying outside then you can enjoy a multitude of different effects. They can flash on and off, fade, and perform other effects too. These brighten up a house very well and provide an outdoor Christmas centerpiece.
Indoor Christmas Lights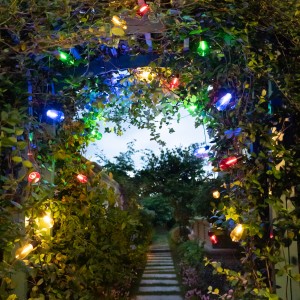 Displaying lights inside the house is another great way to celebrate Christmas. You can choose to wrap fairy strings around the banisters or line mirrors or large pictures with them too. LED multi-effect lights include a twinkle effect, flash effect, wave effect, slow glow, slow fade and sequential pattern too. Displayed in the window your home will truly stand out from the crowd. If no power sockets are available then you can use battery-operated lights. Battery operated Christmas lights mean they can be displayed anywhere you want around the house, regardless of whether there is a power socket available or not. Indoor starlights look particularly festive. These are available in clear, blue, multi-colored, or red. They can even be used on the Christmas tree if you so choose. Net and rope lights also provide beautiful Christmas lighting effects.
Christmas Tree Lights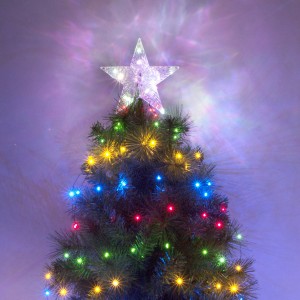 Christmas just isn't complete without a Christmas tree. How you light the tree is an important decision to make too. It is possible to choose a colored effect, plain white, or something extremely bright and multi-colored. A good way to use lights on a Christmas tree is to have strings with slightly larger bulbs on the bottom with smaller bulbs at the top. A tree that is decorated with white or clear bulbs can look very stylish and elegant. This is especially true if you use all white decorations to match. If you want something fun and bright then you could use multi-colored lights with different color baubles and tree decorations. Sometimes it can be nice to have one large tree displayed in the main sitting room of the house with a smaller tree placed somewhere else. That way you can enjoy two different styles of lighting.
Christmas is a time to shine and brighten your life. Make sure to be imaginative and creative when choosing Christmas lights and decorating your house.
---
Post time: Dec-19-2020